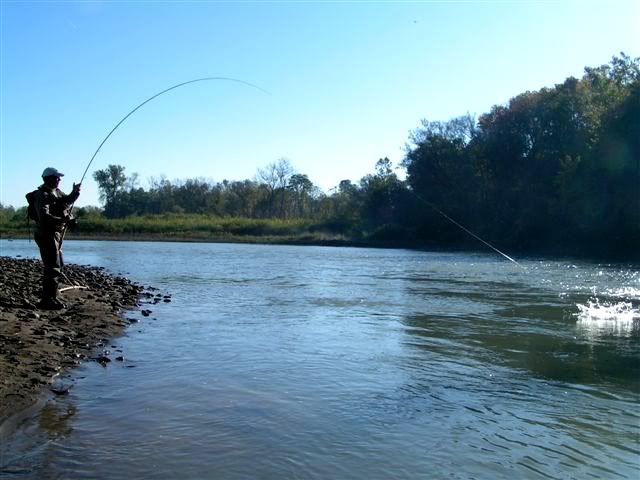 Part of me laments the popularity that certain Lake Erie tributaries now enjoy which, even five years ago, were relatively unknown to most great lakes anglers. It means that when I undertake the long drive, I have to ask myself whether or not I'm willing to face a crowd.
Last Monday, I decided that both the conditions & fishing crowds were acceptable, and headed out to one of the tributaries in Lake Erie's famous "Steelhead Alley." Together with John, Mike and Richard, I figured to "crush" some steelhead.
It didn't turn out to be the total victory that we'd hoped for, but all of us got fish nonetheless. I got some nice shots of
John fighting
a chromer, just before the camera's batteries died; the photographer in Mike once again revealed himself, by snapping this shot of a
lovely little hen
rainbow;
Richard
was captured on digital, a little gollum-like, doing the yum-yum unacceptable (if you ask the members of certain forums on the internet); and Mike released what seemed to me the biggest fish of the day, a
gorgeous nickel bright
hen in the 9-10lbs range.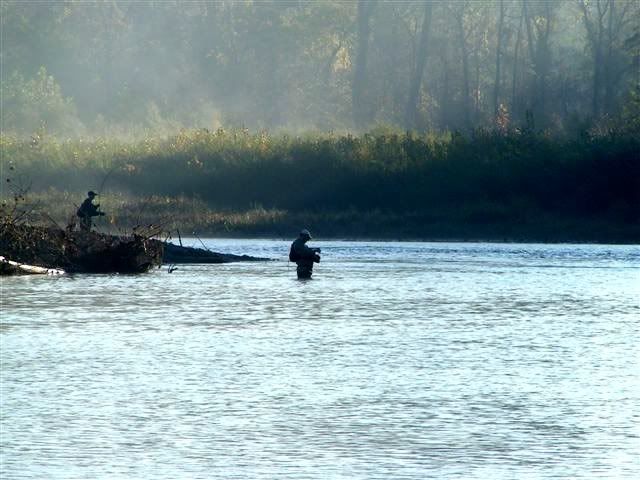 The story of the day, however, was the beautiful weather and the scarcity of crowds - so there was no lamenting! The morning afforded quite a few good shots, as this one on the right, and the few fishermen we did meet (with one minor exception) were in the same mood we were: happy, sun-warmed & friendly.
As a case in point, near the end of the day, one of the "fly guys" helped me locate fish; which is the only time this has ever happened to me (they are normally aloof when they see the "pinners" coming). Perhaps frustrated by water conditions that were still a little too coloured for presenting flies, this gentleman from Ontario directed my attention to a tail-out where he'd seen fish surface before my arrival. His coaching worked as, after a few drifts in the spot he'd indicated, my float slipped beneath the surface at the urging of a
spunky 4lb-er
whose eagerness to get back in the water almost cost me the picture...
Now I'm making plans for this weekend. Lots of rain this week. Who knows where the next blog entry will come from?
Not me! Not yet, anyway...
p.-