When the float went down, I wasn't looking. I'd been checking out the crowd back on shore, to see if anyone was catching anything. It had only been for a second or two, just a glance over my shoulder, but it was apparently enough time for some creature of the depths to engulf the spawn sac at the end of my line.
I was standing out in Lake Ontario, almost up to my waist, letting my float hitch a ride to the horizon, out on the current of a nearby tributary. When I saw that my float was gone, I thought of setting the hook; too late. The fish did it for me, nearly wrenching the rod, reel and all, from my hand. It gave a few powerful head thrusts, turned and sped straight at me, turned again; so violently that the tippet snapped and the line sagged gently. Fish off!

I was somewhat disappointed, but it was still early, and the experience injected some warmth back into my freezing bones. The lake was almost perfectly still, like a giant mirror beneath the overcast sky. And as I gazed eastward, I could have quoted Forrest Gump: there was no telling where the lake ended and the sky began.


It was the kind of day, shortly after a rain, where the rivers would all still be up, but the near total absence of wind would provide an opportunity - finally! - for me to try out my favourite technique: float fishing the lake itself, by drifing my offerings out on the long, strong and clear plumes of rivermouths.

I know this is often done on many Georgian Bay tributaries, but fishermen on eastern Lake Ontario seem to tend, rather to make a distinction: float fishing = river; still fishing off bottom = lake. That I often choose to try float fishing = lake, sometimes earns me some derisive looks... But there is nothing much more exciting than seeing your float vanish beneath the lake's surface. Especially in the fall, when the fish are positively electric, have little to no fear and are extremely ravenous. There is never any hesitation to the strike of a steelhead, out in the lake. They hit pitilessly and with deadly precision. And the bend of the rod, following a successful hookup is exhilirating beyond belief.

Not that hooking these beautiful fish in rivers is any less exciting, because rivers offer challenges all their own, but there is (to me, anyway) a certain mystique about incurring the manifestation of such vibrant life, just under a horizon so seemingly endless and often very cold, barren and unforgiving.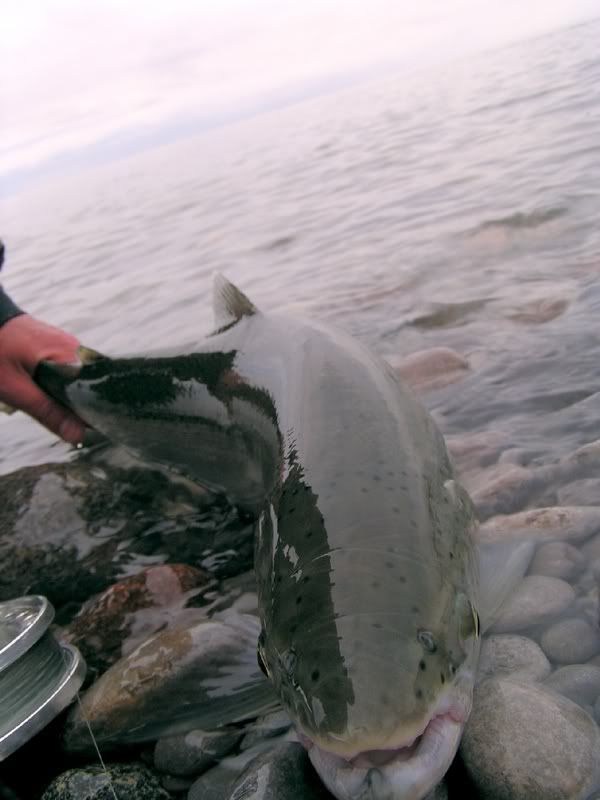 The weekend actually started up north, on a Georgian Bay tributary, where Mike and I took advantage of clearing flows to locate migrating steelhead. That was Saturday, and there was no action at the lake at all, by the time we got there. All the drama took place up the rivers, where the crowds were. But despite the fishing pressure, we both managed a good number of fish, including the specimen below.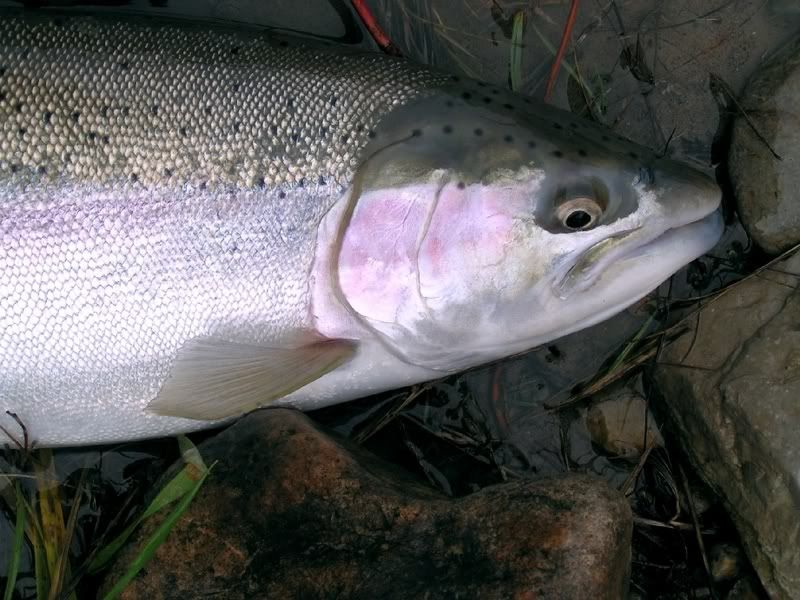 The most exciting battle for me was given by a large 10lb hen who fought me nearly all the way down a long, straight run, turned swiftly up-current, and snapped my line in mid air as she leapt up and away from me. There's no shame in losing a fight like that, and such virtuosity makes one appreciate the fish even more.

I just mentioned that there were crowds, and it was quite true everywhere I went - whether north, or south east from there. It's the sort of thing that happens when news has gotten around, of a couple of good weeks in a row; and it's an unfortunate part of drifting out into the lake, that you really don't have much flexibility if there's someone fishing in the spot where you'd like to be standing.

So, needless to say, despite the extreme availability of fish, I was eventually forced to catch far less than I could have. First of all, I had neglected to adequately insulate my breathables and had to make a shivering dash to the car to get my fleece; and in the meantime two fellows arrived, saw the spot empty and installed themselves. Finders keepers, I guess. If this had been a Monday, for example, I could have gone to get a coffee at Tim Horton's, read the latest news on the Toronto Maple Leafs, filled up the car & chatted with the attendant, and the spot would have been free upon my return - but this was Sunday, on Lake Ontario, not far from Toronto. Oh well. I guess I don't own the lake!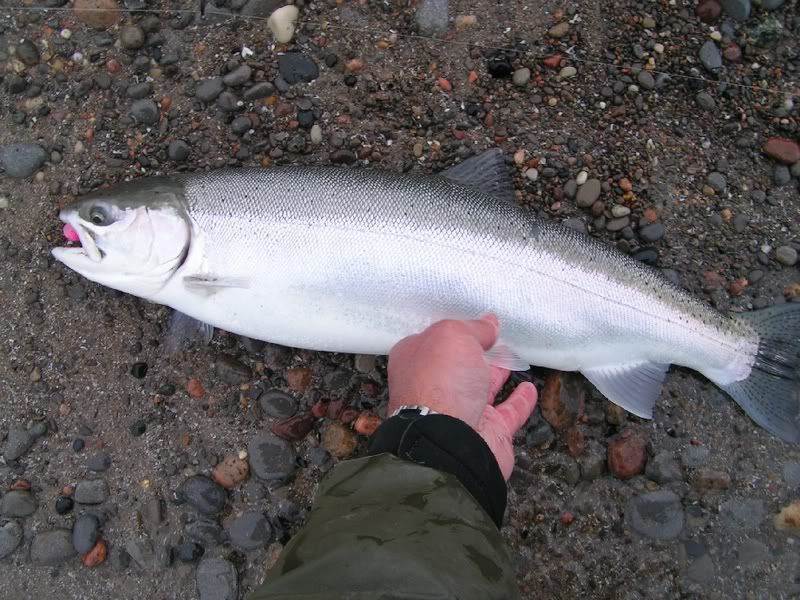 Nevertheless, the quality and power of the fish that I did manage to hook or land, was more than consolation enough. Not only that, but I met up with the fellow I always inevitably find at any one of my favourite rivermouths. We chatted as usual, got to introduce eachother, finally, and he very amicably gave me a chance to get a decent release shot of the fish in the very first caption, at the beginning of this entry.

So, things didn't turn out so badly after all. Now, I need to reward Laura for all her patience in the last few weeks, having had quite a few opportunities to tangle with steelhead while she kept watch over the twins. They're almost 11 months old now... I may not write for a while - or if I do, it will be deplorably philosophical or poetic.

Sorry!

p.-