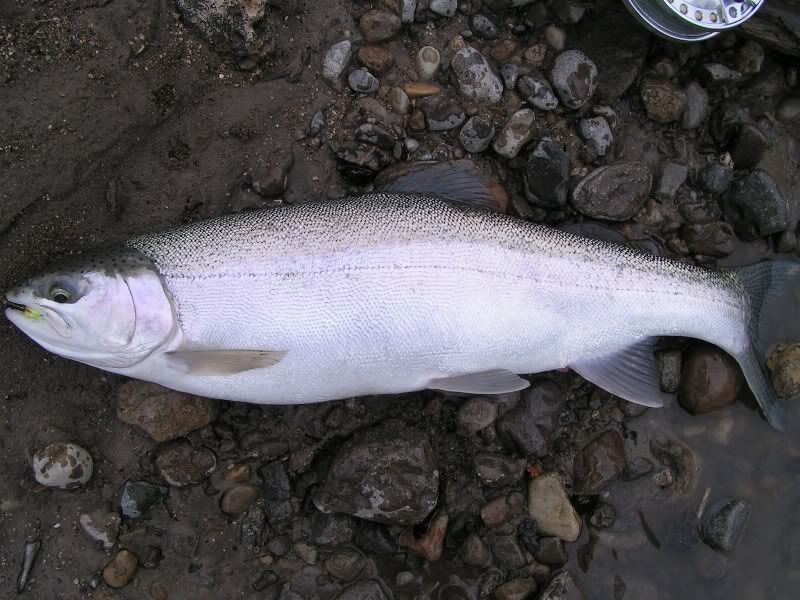 I hate to say it, but the picture in the caption depicts a fish that was not released and ultimately (merely) contributed to my bait can.

It's a long story and I hope you can stomach it.

Last Sunday, I was supposed to join a couple of friends to lay chrome waste somewhere south of Canada and Ontario. But perhaps it's a sign of aging, that we didn't feel too inclined to go freeze our nether regions to such a degree, and the trip was called off. I still managed to do a little bit of fishing in a local spot, but it was to be a big skunk for many of the foolhardy who showed up to de-ice their guides on that day.

This past Sunday, however, was a different story and an example of how fortuitous compromise can sometimes be. The compromise of course was to let Laura choose the time of my foray into chromeland; whilst I had already chosen the ground, a nearby tributary that allows for a quick return home at need.

This was lucky, because it was likely one of the least crowded rivers in the East on that day, and by all accounts it had still been on the boring side of unfishable in the morning. By the early afternoon, there were about 6 to 8 inches of visibility in the water: just enough to fish by. The time and place were right, the water was high and the fish were in. And to compound matters to the good, despite a parking lot brimming with cars, one of the best pools on the entire stretch was devoid of fishermen.

Less than ten minutes into the adventure, I hooked into this little fellow in a riffle at the head of the pool.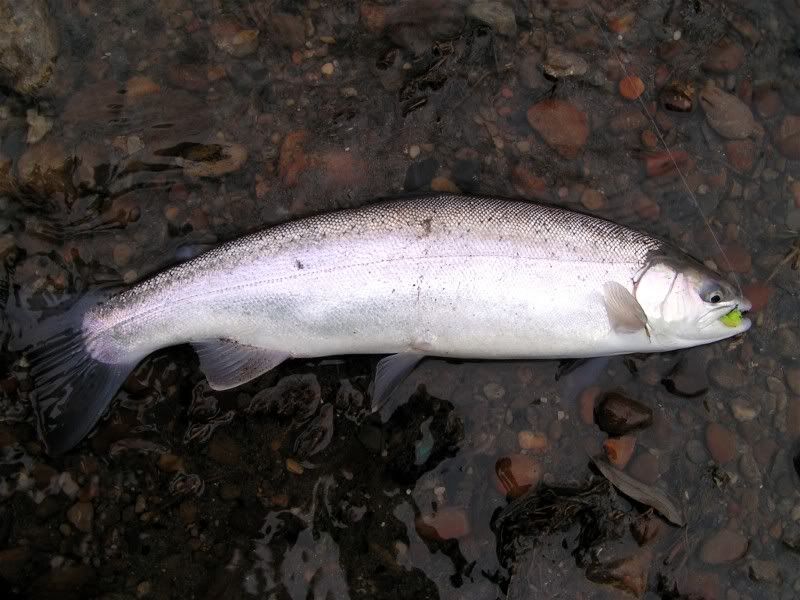 In short order, I had another fish on & lost. Then a few minutes later, the strangest steelhead I've landed in a long month of Sundays, lay feebly twitching on the river bank. At first, since it had fought so sluggishly, like a log with a piece of ribbon pinned to it to look like a tail; I thought the fish must already have been caught & released.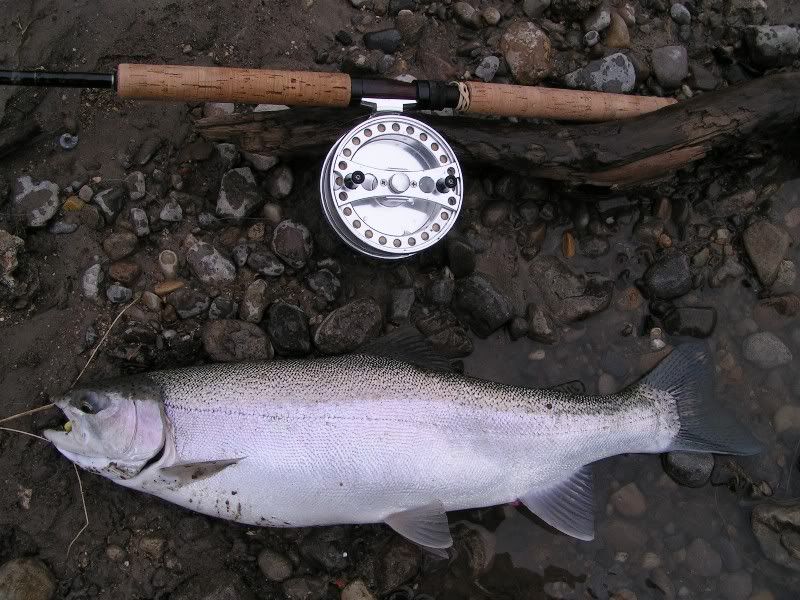 But then it looked to me as though some other
less powerful fish's musculature (maybe a sunfish?) flapped beneath the skin of her aft. The rear of the fish, instead of enabling it to launch itself into the air even from a prone position, served merely to wave bye-bye and twitch like a puppy's tail. The tail fin was misshapen (though neither this picture nor the one in the head caption really show this), with the upper part at least 1 1/2 inches shorter than the bottom. I felt badly for the fish, which I assume was a NY hatchery byproduct, or had suffered from debilitating injury or disease. But I felt good for myself. Back home, the roe supply in the freezer was dwindling...

Things did slow down, during which time I hooked 2 more, and landed another chrome bright hen. This one was in fine shape, gave me a good rendition of wild chrome early spring steelhead, and darted back into the water as soon as I had her unhooked.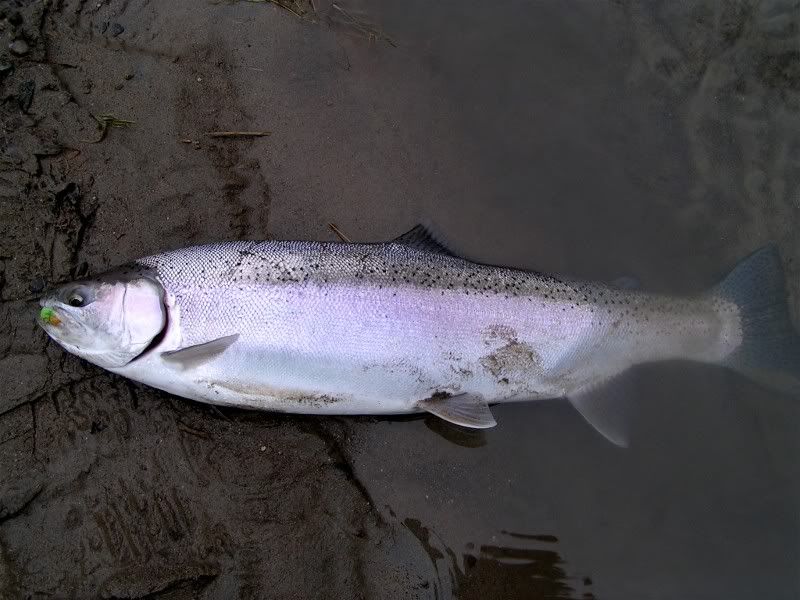 The best photographic opportunity of the day occurred when a fellow from Bolton asked to fish beside me. I knew he was not from around here because he actually asked! The locals don't normally attend to such formality, although if they are feeling good they may magnanimously apologise only if by some accident (which happens too often) or lack of skill their float ends up caught in your line.

Anyway, the 12+ lbs fish gave a good account of itself, given the close confines of this relatively small creek, and the fact that it had a 15' Frontier to deal with at the other end. I asked its gentlemanly captor if I could snap a pic of the beast before he set him free, and was most graciously indulged.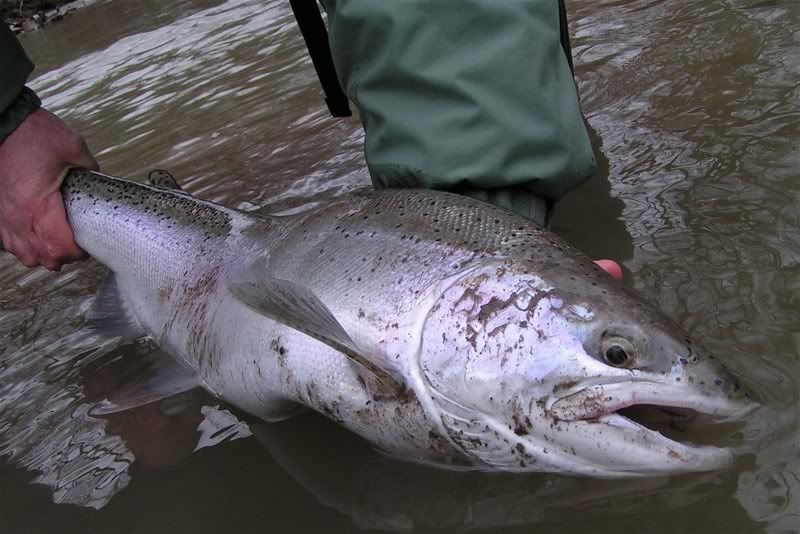 All in all, it was a nice way to spend an afternoon, and finally achieve success in accordance to what I was used to before I was "papa." And it's a long story for just a couple of fish; but what the heck. It's been pent up for a while!

p.-