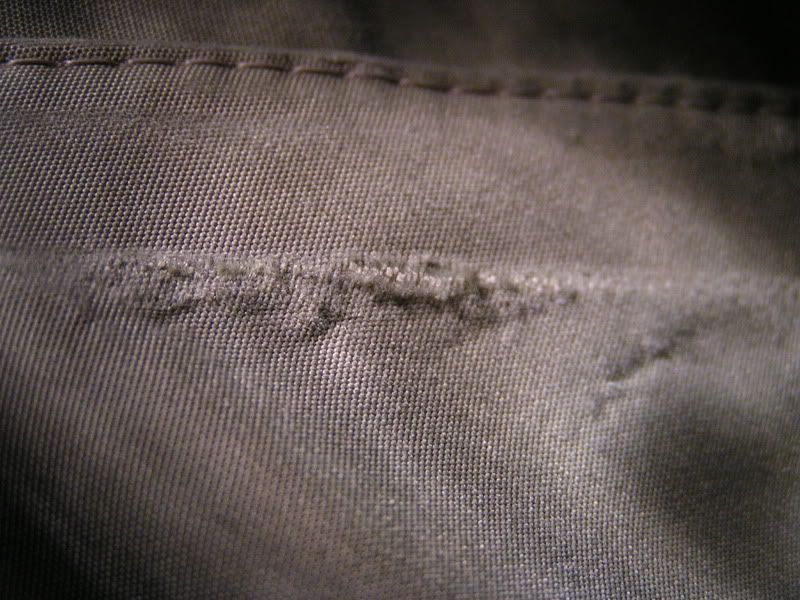 I recently had the opportunity to test out a product that is new to me, although apparently not that new to many other outdoor enthusiasts. The product is called Tenacious Tape and it is produced by McNett , which sells oodles of similar products for all outdoor activities. I have permanently stashed my roll of Tenacious Tape inside my waders' zip-pocket, as my in-the-field go-to for whenever I might spring a leak.
The tape is about 2.5 inches wide and you get 24 inches per roll.

I tested this stuff for an Ebay retailer, Discount fishing , from whom I had also bought a pair of Chota Tellico Shoals bootfoot waders, last summer. They were nice enough to send me a roll of this tape, along with replacement waders, when my Chotas began to leak prematurely after only very light usage. The caption above gives you an idea, but more on this later.
My mission with the tape was to see how well it could stand up to punishment. Although I was advised to put the tape on the inside of my leaky waders, I decided to really go for it and I stuck it to the outside seams. The result: I fished for 4 days out of 5 at this year's opener and only began to experience dampness on the 4th day - on which I walked well over 7 km's in the bush, tracking steelhead in a relatively small creek, festooned with obstacles as well as bank-clambering and climbing opportunities.


This may not sound so incredible, but for anyone who wades a lot it should jump out at you as outstanding.
Although urethane sealants such as Aquaseal (ironically also made by McNett) are the most effective way to plug up leaks long term, they can take hours to dry; whereas the tape goes on in minutes, making it an invaluable stop-gap in the field.
If your waders develop a visibile tear that doesn't accomodate a tractor trailer and a circus-troop of elephants, all you need to do is let the spot get dry, brush off any sand etc., and slap some Tenacious tape on. You'll be good for the day, at least, and if you put it on the inside of your waders you'll probably make the whole trip.
Now to the "D" section of this review: those Chota Tellico Shoals bootfoot waders. I was deeply disappointed to find that the seams on these waders lasted less than twice as long as the tape I used to repair them. Specifically, the seams inside the knees took about 8 or 10 trips to wear out. By comparison, I have an old 4 year-old pair of Orvis Silver Label bootfoot waders which are STILL useable and took well over 2 years of much more punishment than I ever gave the Chota's, to develop any kind of leak at the seams. To give you a better idea of what this means, the original Silver labels retailed for about 1/3 the price of the Tellico Shoals - and lasted many many fishing trips longer.
My disappointment did not end there. When I contacted Chota about these waders, the response I got was that they were discontinued & that I should go back to the retailer (i.e. Discount Fishing) - which I refused to do, based on principle: your product, your problem. No matter how much I argued, the reply was always the same: we won't replace this obviously defective product. Luckily for me, they did forward my complaint to Mike at Discount Fishing, and he resolved the issue of being wader-less on the eve of the opener, by sending me a brand new pair of Hodgmans.


The Chota's only avoid a complete "F" grade because they do have one redeeming feature: quick lace boots. I found these to be the most comfortable bootfoot design I've tried, the most stable and the easiest to lace up. I imagine that their wading boots are similarly practical. You basically just pull one lace, then hook it up to handy little notches on either side of the boots. Voilà, all laced up and ready to go.
It's just too bad about the water that leaks in. That sort of thing does affect comfort negatively - especially in early March!

So if you're thinking of Chota waders, be warned! But
you'll definitely need
McNett's tape with them, because
it's as tenacious as tape can get!


p.-