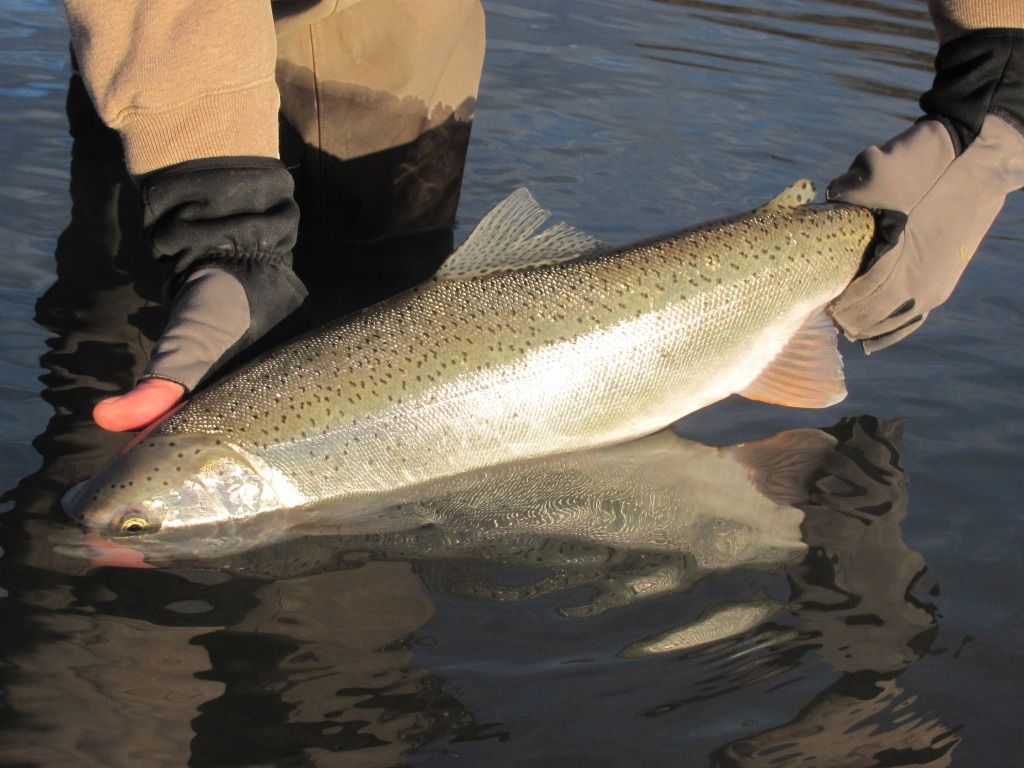 Steelhead fishing in April and May is always a "hit and miss" proposition. Miles of beautiful, beckoning river can betray the angler into fishless pauperism. But when the timing is right, schools of hungry drop-back fish can make everyman (or woman) feel like the King (or Queen) of the fishes.
The former is a lot more likely to be the case, this spring, given the general lack of rain in the area. This time of year, we normally average 99.1mm of rain, but have had just over 21mm so far. Two heavy rains would fix this quickly, but a promising forecast has just been scaled back from rain to drizzle – so my expectations are as low as the water table.
That being said, carpe steelhead: seize the steelhead while you may.
So when Mike recently invited me to join him, as well as one of our forum buddies (Fidel), I deemed that it would be foolish to resist the temptation. It took only minimal, and rather cordial, negotiations with Laura to obtain permission, and I quickly answered in the affirmative.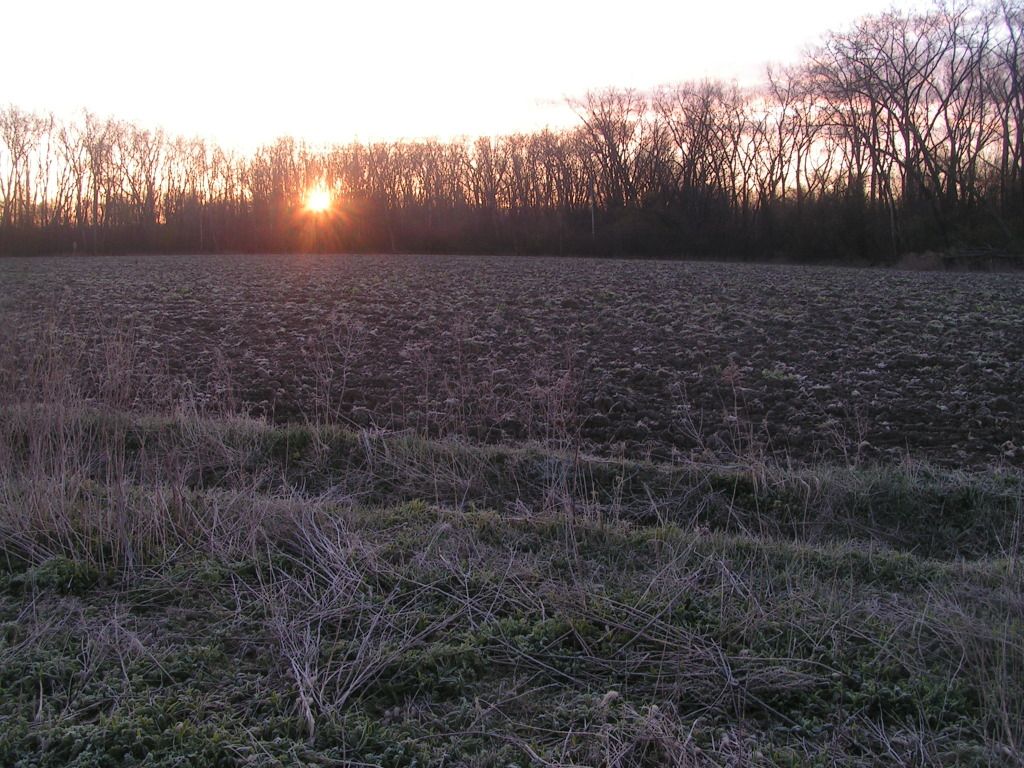 On the chosen morning, we met up with Fidel at the agreed upon parking locale and carpooled our way without issue all the way to the fabled shores of our target tributary. There was a small bite of frost on everything, and as we pulled on our waders and wrapped ourselves up in our gear the cool breath of the morning made us shiver. The sun cracked open the horizon and cast its light through the trees, as we took up our rods and set off through the woods.
As usual, Mike walked quickly ahead. Fidel and I enjoyed a few minutes of eager conversation as we kept up with our friend, going over our hopes for the day as well as our plans. I cautioned him that steelhead were unlikely to be the only denizens of the river to take our offerings. We were just as likely to catch a few bass, as well as sucker. He was concerned about what kind of rigging he should use. So knowing that he was going to find out that this river is bigger and more flowing than most of the eastern Lake Ontario tributaries we are used to, I gave him a few pointers, emulating as best I could what Mike had taught me years ago.
When we got out of the woods and started picking our way across the wide open terrain that borders the river, I was struck by the vision of the fine morning into which we had unwittingly set foot. The sun had just begun to sail over the crown of the nearest treeline and was shining pure gold, through the mist laden air, lighting the bright fringe of frost that adorned all the plants, logs and stones. I couldn't resist the photo op so I paused a while to snap a few pictures, while Mike and Fidel forged ahead. You can see some of them if you click the thumbnails on the left, my favourite of which is the bottom one where Mike is setting up for his first cast of the day; there is something to be said about letting a camera do the best it can in a confusing situation - as I forced it to focus elsewhere before panning over and taking that shot. The results were at once unexpected and gratifying. Moreover, it was lucky that I started clicking when I did. By the time I felt I had enough shots, the sun had moved up slightly, the primeval morning scene had moved on and the moment had vanished.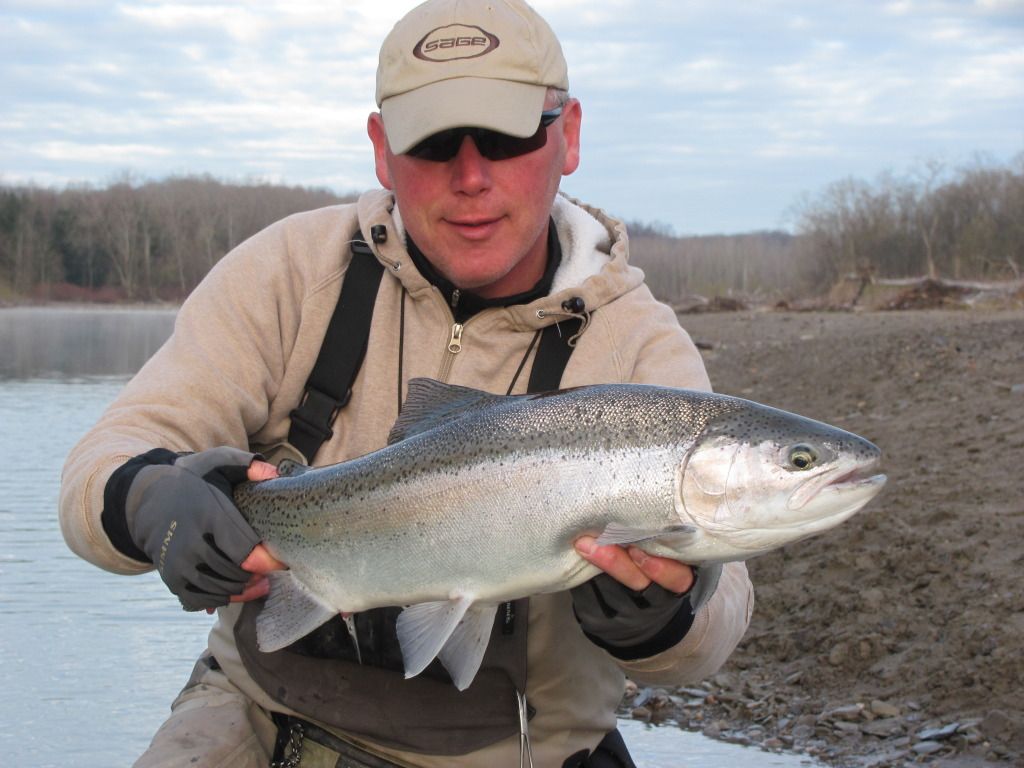 It didn't take very long, once we were all set up and fishing, that the floats started to go down and the action began. We did especially well in the morning, which is typical for the spring. We kept pace with one another, hitting a few double headers and almost a triple header at one point. Giant leaps and hard takes were the norm. If anything marred the morning for me, it was a bad case of the rubber hooks, and I was at a loss to figure out why the Daiichis weren't holding on as they used to. Late in the morning, after an unprecedented streak of misses, though interspersed here and there with successful landings of fish, I switched to Kamasan specialists. This remedied the situation, although a knot in my leader quickly became a problem when an angry steelhead with size tore off on a savage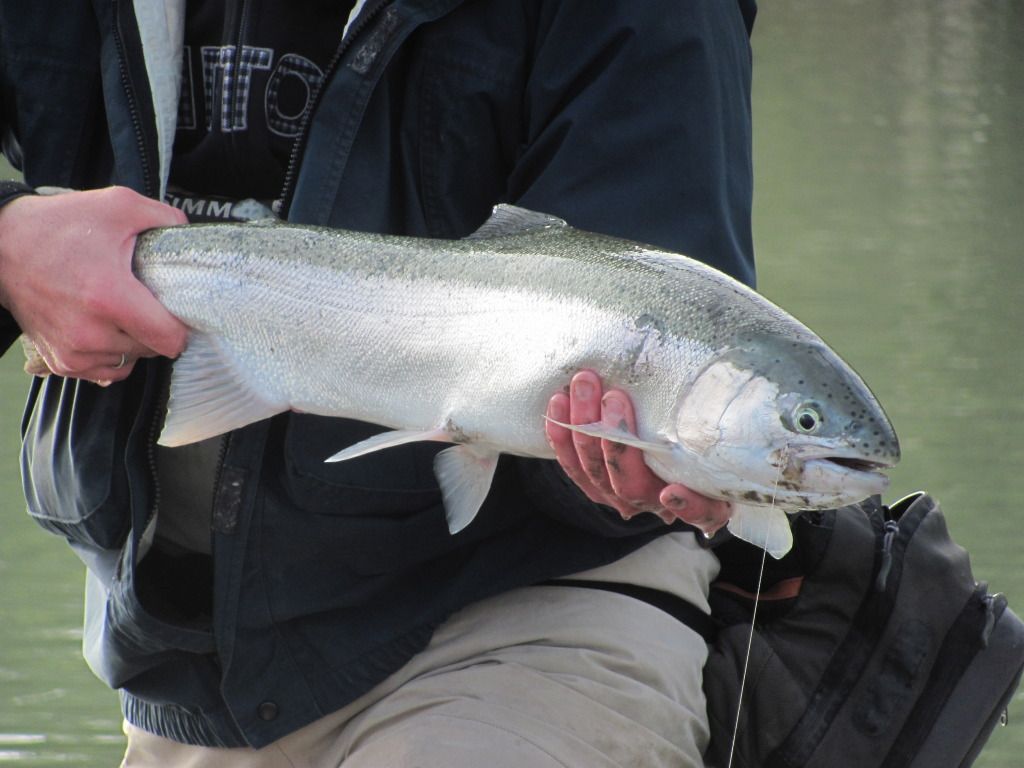 hit from close range. Though I would rather have caught that fish, I was immensely pleased by the intense flash of silver it gave off as it made its escape.
In the afternoon, when the steelhead bite turned down, Fidel became the bass master, landing well over a couple dozen feisty smallmouths for the day. Most of them were in the 2 to 3 lb range. I only caught a few bass but, ironically, I may have missed one that was much bigger. I had at first taken it for a smaller fish, decided to horse it and gave it plenty of pressure - with the thought of bringing it in quickly and releasing it. It refused to comply,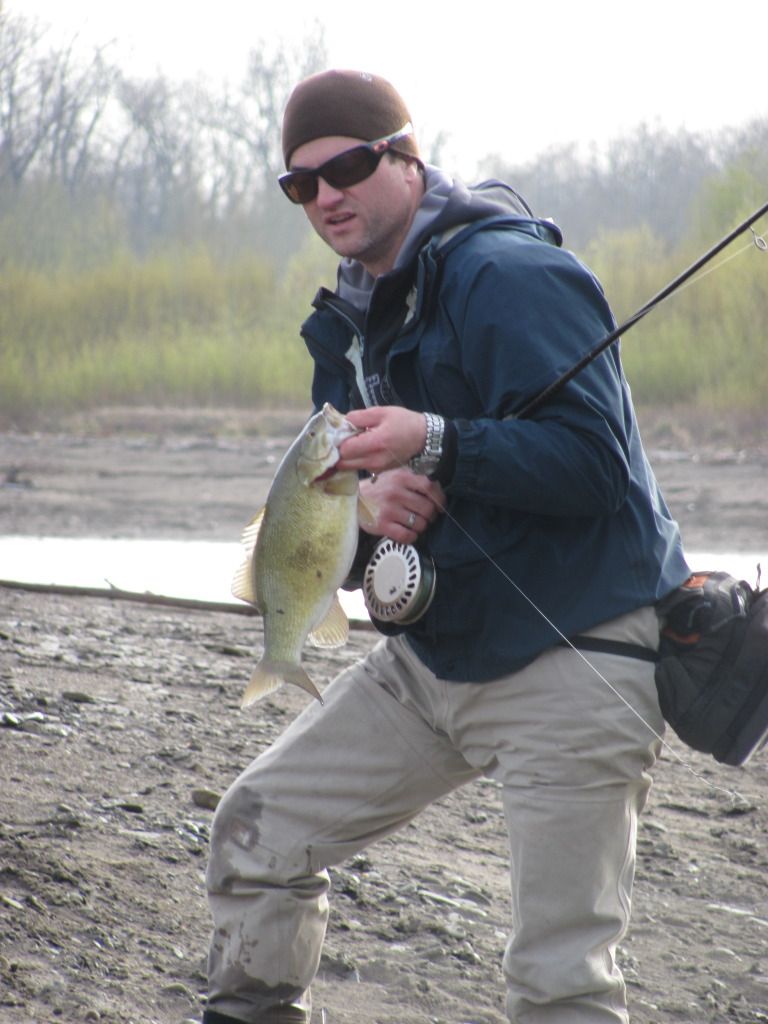 and when I added more pressure I got a good look at it; just as the hook came loose. It was probably close to 5lbs - a real treat if I had had the smarts to play it with more patience!
We ranged up and down the river all day, guided by Mike, hitting a few fish here and there - and watching as Fidel lay waste to the local horde of smallmouth bass, everywhere we went. But in steelhead terms, we never equalled the success that the fresh and cool morning had given us.
My favourite moment of the day came just before our first switch of locations, after the morning had pretty much gone dead. We had virtually finished and were heading to the car when we came upon a stretch that I've always liked and which, in my opinion, seems often to be overlooked and/or improperly fished. I adjusted my lead to what I felt I knew would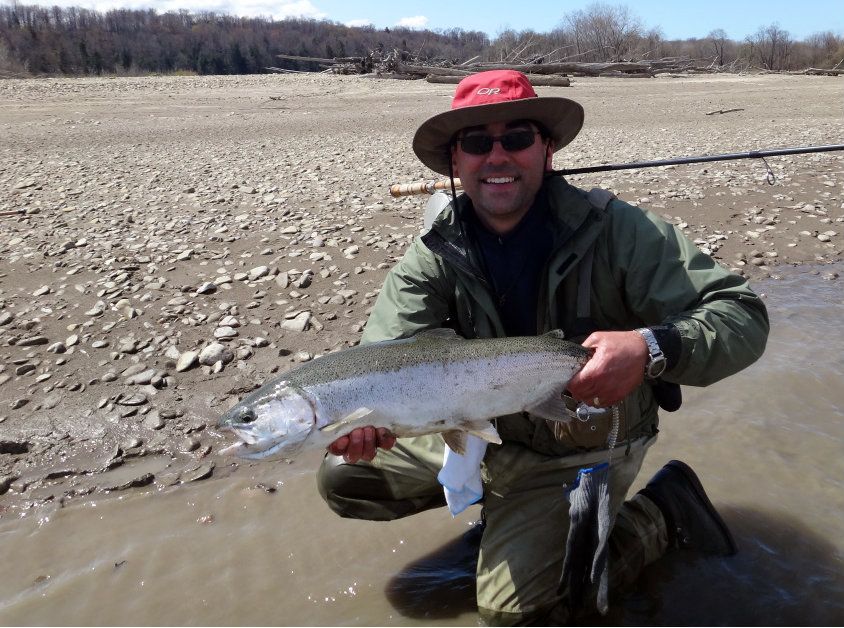 work and, within a drift or two, life returned to our day in the form of 4 or 5 steelhead - one of which you can see in my hands (left). It gave a good battle, long and difficult, with a few aeronautics thrown in for good measure.
It has been a while since I visited this river, and it was nice to finally take the time to fish its waters again, and in the company of friends both old and new. Time itself being such a commodity, and this year's trout opener not boding extremely well - though I still hope to be proven wrong (the best experience of learning through one's mistakes is when the mistake is that of having a pessimistic outlook) - this was very much a case of seizing the day and valuing it for everything it brought; a day away from the regular pressures of daily life, spent in good company, laughing, learning and catching fish.
Altogether too soon, it was over - just as everything else that's good. The picture that Mike took of me, at the end of this piece below, embodies this feeling well. It was taken just at the moment when a fish was released, by a happy accident, in an attempt to get a normal run-of-the-mill fish pic. As it happens, it has become a fitting coda to the battle and the central activity that draws us all out to the waters. In the picture, as in life, the special moment has passed. The surface of the never-ending flow closes in over the fish's momentary turbulence, like a door; then it moves on, as it always has, unchanged.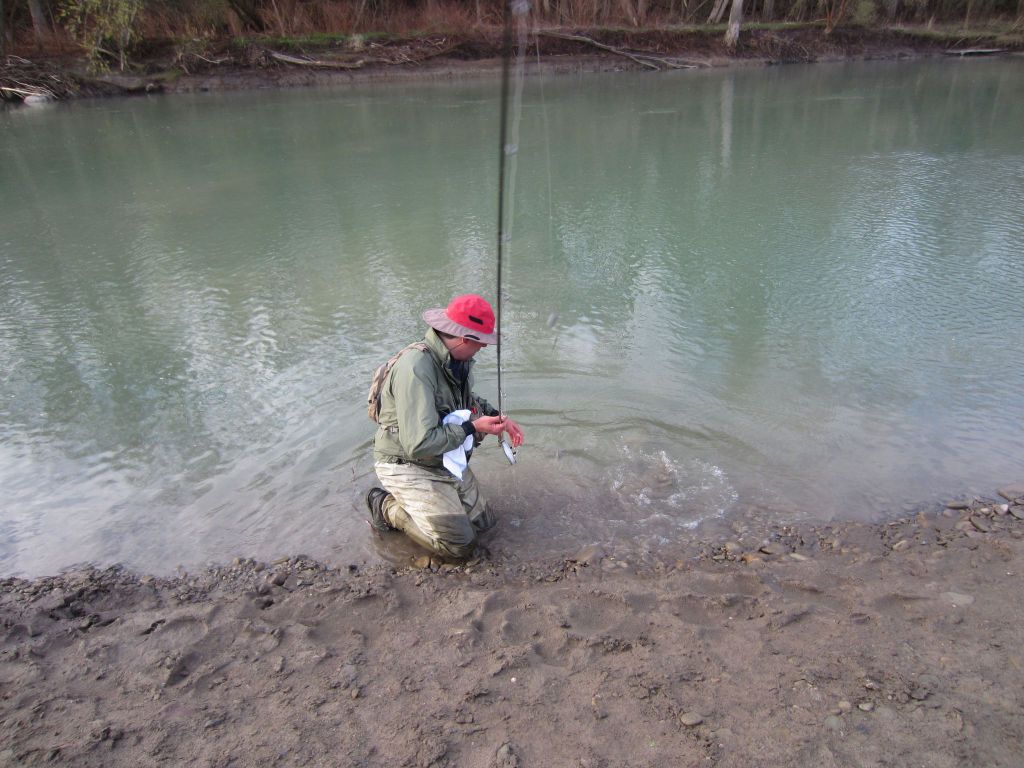 p.-