One of the nicest things I've had the pleasure to hear, in the past month, was "I don't want to look at the fish. I want to catch the fish." This statement was issued by my 6 year old son, Samuel, when I offered to take him and his brother for a walk, pre-opener, to take a look at spawning steelhead in a nearby creek. My reason for taking him on this sight-seeing tour was to whet his appetite for the coming opener, but it seems that it was entirely unnecessary: the little man is already wired for sound.
We saw many fish on our little walk. But all of them had apparently finished spawning and were merely holding - this, almost 4 weeks before the opener. Although it was comforting to see good numbers, it reinforced my pessimistic outlook for the 28th of April. And I held out little hope that the two days of vacation that I took would turn out quite as well as the ones I had taken
last year...
Day 1 - Opening Day, 2012
As unthinkable as it seems, Laura had an engagement on the morning of the opener that out-ranked fishing. Why people would schedule "important" things on such crucial days as the trout opener is beyond me. But this year, that was ok, because our fishing partners for the day - Coach Steve and his son Simon - were not going to be available until around 11am anyway. This was also fine because it meant that I could sleep in until 7am at least - a relative luxury when you have young twins.
So, of course, when the time finally came, it was more about learning about float fishing than actually float fishing. Steve sat comfortably on his porch as he patiently worked his way through my rig-tying instructions, putting the float at the right spot, spacing the shot, tying on swivels, tying on hooks. Sam and Simon were chomping at the bit, asking questions and running around the bushes, while we made them wait. Finally, it was time to go and we made the long walk down to the river.
We had a small pool specifically picked out and, once there, instructions on how to cast and drift a float began in earnest. The boys, still coddled at school and unused to the slimy things of Earth, didn't offer to stick hooks into anything squiggly or gooey, preferring to leave that to the dads; although they did look on with fascination whenever we were called upon to refurnish bare hooks.
Children are impatient and discourage easily, so we heard a lot of "I'm not good at this," or "I'm not a very good fisherman." It will probably take many years before the adult explanation of "it takes time," begins to make sense to them. When fish don't bite on the first drift, or a tangle happens on the second drift, or someone forgets to open their bail trip etc... to little guys who are not used to exercising patient activity toward a specific, though attainable, goal - the immediate reason is lack of talent; but in fishing lack of skill means only lack of experience, not talent.
Nevertheless, one steelhead did make a serious grab at Sam's line. I hooked it for him and was giving him his rod back, when the hook came loose and fish swam away. It was a fortunate hookup, though it was too bad that we didn't get to land that one.
When Steve and Simon had to leave, Sam and I forged on for a while. But cool weather, a tired little boy and lack of opportunities accessible to a 6 year old all took their toll, and we gave up and headed home. Sam still wants to get back out there - so quitting early on the opener did what I hoped it would, sparing his eagerness for the sport and keeping him more willing to go once again.
Day 2 - Sunday, April 29th
Day 2 of this year's opener for me was to be a longer day out, although still with a definite "home" time - on which I would easily over-achieve. I was really looking forward to it, as I was going to be spending it with my good friend, Khalid.
The morning dawned bright and clear, if somewhat chilly. One thing I had yet to experience on any opening day I've fished (south of Algonquin Park) is ice in my guides. Yet, there it was, necessitating that I shake the rod tip in the water every now and then, almost til 10am.
The fishing was slow. And, as the sun rose and began cascading light into the water, two things became terribly clear - the water was too clear and it was also abysmally low. As the day wore on, this situation did not get any better. We walked miles of river to find far too few fish, although it did afford us an opportunity to see a lot of river-bottom; which is knowledge that we will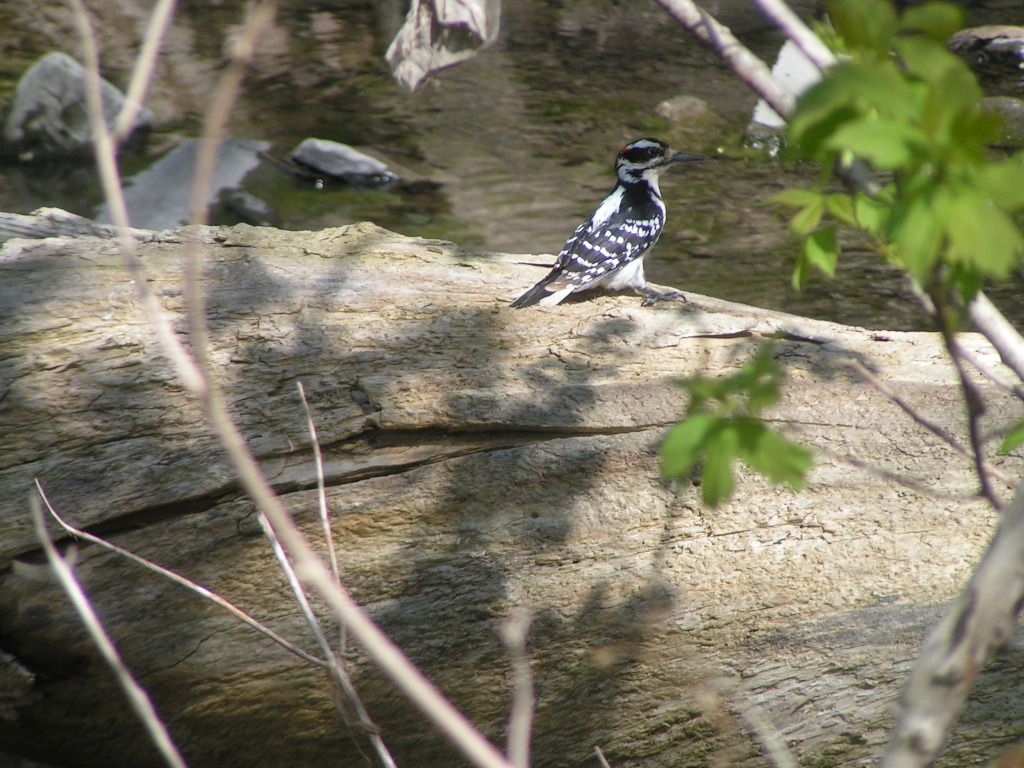 be able to use later, when we return and the water is at healthier levels. We saw many dips and grooves that are prime candidates to hold fish when the river is running higher. This is what caused me to cut the day short, in the end. We'd had a good day walking the river, but when the fishing's this slow one might as well go home early and over-exceed on one's wife's expectations...
Thanks to Khalid, however, we did manage to get into a short flurry of steelhead glory early on in the day. At one point, as I decided to ply pocket water and deeper drifts for a lucky fish, my friend forged ahead in search of faster and hopefully more productive water. He was gone a while before my cell phone chimed with a text message from Khalid - "1 for 2." In a flash, I left my spot and almost jogged up river to meet him. Seeing him on one side of the river, as well as a few other fishermen holding the prime spots, I crossed over and selected a likely riffle. I shortened my lead a little and started drifting my float into the seams of the riffle.
I was rewarded almost immediately, with a bright, chrome, well-recovered drop-back steelhead. She leapt out of the foam with such electric fervor that, for a moment, she seemed much bigger than she was. When I finally landed her, I took a few pics - not great ones, as the situation didn't allow - and released her gently.
I would catch another, smaller fish - at a spot that we both now call the "Khalid Pool" - but I released it without pictures.
Day 3 - Monday April 30th
To be quite honest, over the few weeks that preceded the opener, I had had many internal debates as to when I should take my days off, and where I should go. It must have been confusing for Khalid, who shared my dilemma, listening to me as I externalised my thoughts. Right up until we parted company on Sunday afternoon, I was almost sure that I was going to re-plan my Tuesday vacation day and move it to Friday. I was ready to do it, in fact, except for a small detail.
Oliver, who had expressed a desire to fish with me again, came through on an email with the message that Tuesday was the only day he could come, and that he wanted to fish some of my local waters with me for the first time. So, looking at the weather forecast for Monday, I saw the writing on the wall: 1mm of rain predicted for the area meant that we were going to be stuck with low, clear conditions and spooked fish.
So, somewhat demoralized despite the prospect of getting to re-acquaint myself with my new friend, I declared to Laura that I would leave the river shortly after noon on Monday. I saw no purpose in spending an entire day tapping spooky fish in gin clear waters, other than to reconnoiter for stretches with fewer fishermen and better cover. For what I had in mind, it would take less than half the morning and a good walk.
What Monday did offer, though, was a stretch of river where I felt reasonably confident that I could finally try some beads. So while I looked for new waters to share with Oliver on Tuesday, I worked a long stretch of river with nothing other than a bead.
As expected, the day's harvest was not considerable - unless you measure sighted fish. I saw plenty of frightened, hesitating and or panicking fish on Monday. I did manage to catch a few as well. Two fish stick out. The first, because it was my first on a bead, took the offering in a slight eddy where the activity at the business end of my float rig was not readily apparent in the movement of the float. The fish must've hit while the float was stationary and it must've been convinced enough of the authenticity of the bead to keep it in its mouth for more that a few seconds; because when the current re-engaged the float, the down-river pressure caused the fish to shoot forward, resulting in what seemed for all the world to be a vicious strike!
It didn't take overly long to land the fish, but it delivered exactly what I would expect from a well recovered drop-back steelhead: plenty of air time, lots of unpredictable zigs and zags, and more than a few desperate runs.
The next fish, and subsequently my last of the day, hit just before noon. This one was quite a bit bigger, and much better recovered from its spawning voyage. He was this year's "unmanageable" fish, for me. Once he got it into his head that he was headed down river, I could not stop him. I tried, but he was very strong and used the available white water to his utmost advantage.
The hookup on this fish was similar to the last one, where nothing seemed to happen to the float immediately - when it suddenly shot down with exaggerated velocity. The fish immediately jumped, zigged, zagged, held in the current, swept himself up under a boulder; then when that failed to throw me, up with a few more jumps - at least 5 in total to that point - he then suddenly turned tail and sped down river. I had to jump in, dangerously close to heavy current, to keep him from snapping me off on an intervening river bank!
I kept up with him as best I could. A couple of times, I managed to turn him, but he would still find a way to get the better of me, swing himself into a plume and then deliver a powerful burst that would propel him downstream.
At last, the hook held; and his strength finally gave out. I got him to shore to take a good look. He wasn't overly huge, maybe 8lbs at the most, but he was a marvelous sprinter. I kept him in the water for pictures and unhooking, and I took a long, long time to revive him. When I felt that his strength had recovered enough, I let him go.
Then on my way home, on the windshield, something almost unexpected. Rain drops.
Day 4 - Tuesday May 1st
At first, it was a fitfull rainfall. It was on a bit, off a bit, not really doing much but rinsing some of the dust on my windshield. But as Monday evening came on, and then Monday night, the precipitation became heavier and steadier. Ultimately, it seems that our meteorological diviners had erred and, instead of dooming us to gin clear conditions on Tuesday, Mother Nature was wrapping Oliver and I a gift.
We met at the designated spot before sunrise, shook hands and started getting dressed to go. Shortly, we were fording the river; blindly, because you couldn't see the bottom. The rain had stopped a few hours earlier but, still, if I didn't know the river as well as I do, then we would never have attempted to cross in those conditions - high and with visibility less than 8 inches. The graph would later reveal that the water was actually still rising.
I don't recall, now, if it was on the first drift; but it can't be, because I still had a bead on from the previous day and, out of laziness, I tried it. It got no love. And after a dozen drifts, I slipped it off and tied on some bait. After that, the day began to unfold. Oliver followed my lead. Floats went down, rigs were adjusted and re-adjusted; bright silver bodies blazed through the air and
, wherever they surfaced,
turned the entire width of the river into a boiling cauldron. There were more than a few double-headers between Oliver and I, and enough activity that, at one point I sat down just to rest.
For many years now, I've fished the opener in either poor conditions or with less than a full day (or both). But on this day, the stars had aligned. The conditions were spectacular, and I had free rein from Laura to fill the entire day. So any given flurry of activity, where it seems every drift produces a reaction, was never in danger of being interrupted untimely; and at the end of each one, we could just wait for the next one to come up. In this way, it was a lazy day. If you were fishing a pool and it seemed to go dry, you needed only to wait; steelhead were migrating lakeward in droves. One needed simply to wait for the next pod to come swimming through.
We didn't get any of the massive fish that I seem to find so many of at this time of year, but most of them were solidly between the 3 and 6lbs range. A few fish exceeded this bracket, but not many; and they made a sizeable difference when you had them on. Oliver's last fish of the day was just such a fish - and it kept him busy for a long time before he could finally land it. Again, fully recovered and with barely a mark on it, this fish had been waiting for just such a rain as this, to head back to the lake. In passing, she graced my friend with a wicked case of sore shoulder!
Again, as in our past trips together, a treat for me was that Oliver is quite a good photographer, and he served up quite a few dainties for my ego. Low focal length shots abounded, where the background is dark and unfocused, etched with the bright silver sides of the fish and punctuated by my red, father's day fishing hat. And as the day wore on we lost count of both pictures and fish, enjoying the day for what it represented - a rare gift; long stretches of green water, filled with hungry steelhead and that we were for the most part not required to share.
At one point, Oliver did something that surprised me - or at least it afforded me the opportunity to learn something about him. Toward the end of the afternoon, a few anglers suddenly appeared on the stretch that we were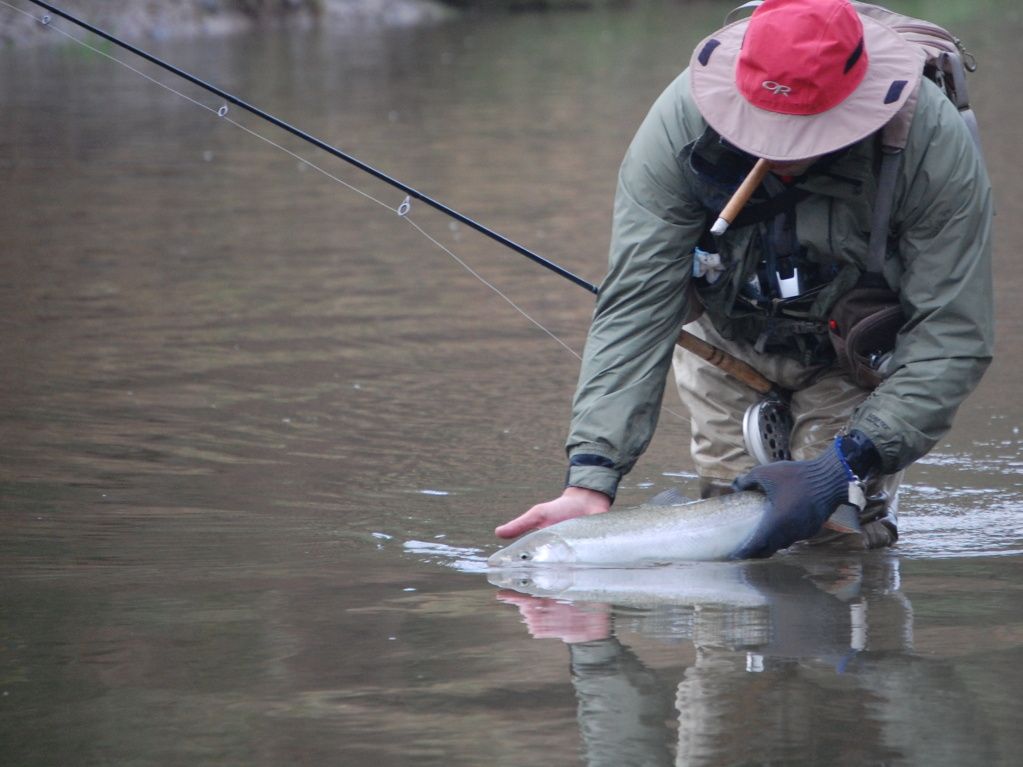 fishing. Two gentlemen settled in above us, float fishing as we were, and one fellow pushed up from below - only, he wasn't float fishing but tossing a spinner. Normally, I don't think anything of this, but this guy was tossing his hardware pretty much in the path of Oliver's drift. I don't know what I would have done, in his place, but it would never have occurred to me to do what Oliver did. And what he did rather gracefully solved the problem: he started chatting with the fellow and, within half an hour, had gotten him rigged up for float fishing! What's best is that he also turned the fellow's day around. Whereas he hadn't had a single bite till then, within an hour he landed 3 or 4 fish - and with Oliver and I cheering him all the way!
It was a great way to be taught a lesson, and I will certainly keep it in mind the next time I see a chap who's in some piscatorial difficulty.
But alas! All good things come to an end, and this day was no different. We could've stayed until night-fall, but both of us had families to get to and by roughly 6pm we knew that we needed to leave. Certainly, after a full day of such glorious fishing, it's almost callous to be greedy and try to squeeze another fish out of it. The day had already been filled with such blessings that the time had merely come to change the source of the blessings, time to leave the river and make for the hearth.
In parting, Oliver's words float back to me now. He spoke them in the middle of the day when I sat down on that log for a break, well before the tail-walking hen that crossed the entire width of the stream as if it were on a jet-ski, dove, then swirled up and shot out vertically toward the sky; pulled a bit away then turned, sped straight at me narrowly avoiding my knee, skipping off the edge of the river, to come to rest 3 feet up the bank. She lay there motionless for a moment, and I reached out to tail her; upon which at the first touch she shot up again, bounced down the bank, shot under some branches and snapped the line. What any fisherman would tell another who had just had that kind of fight:
"You look satiated!" -
and I am... for now!
p.-