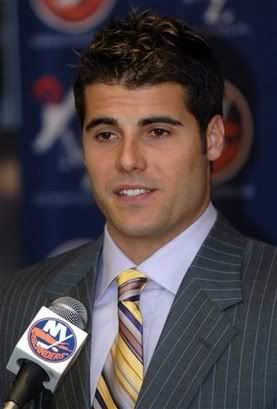 Would you pay this man 4.5$ million per year?
Ok. This being a fishing blog, I will be brief. But I just can't help but comment on this one.
I was so shocked that I almost didn't finish my last blog. There is some serious insanity going on in Long Island!
As some of you may already know, the New York Islanders recently signed goalie Rick Dipietro to a 15 year, 67.5$ million contract. Dipietro is now 25, so this contract will keep him warm til he's 40 in 2021.
The last time a contract this big was awarded in the NHL, the guy's name was "G-r-e-t-z-k-y"... ever heard of that guy?
Ever heard of Dipietro? If I told you he played for the Nashville Predators, would you even know that I was lying? My point is that he is at best a B+ goalie. He is not the equal of present talents such as Roberto Luongo, Miikka Kiprusov or Cam Ward. And, unless you're a hockey fan, you've probably never even heard of those guys. Ken Dryden? Know that one? And not even Dryden, nor even any other goalie, ever had a contract that long. Not even close. And Dipietro will likely never do anything as big as this contract, to get himself into hockey history; he's just not that good!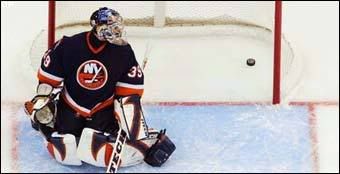 67.5 divided by 15 is... what...? 4.5$ million. So, basically, by the time Dipietro is replaced- maybe in 6 or 7 years, maybe in 3 - he'll be sitting on the bench or in the press box, laughing his face off into a huge box of Krispy Kreme donuts. 4.5$ million a year to eat donuts. Can you say "Jackpot"? "Laughing all the way to the bank"? "Always fresh at Tim Hortons"!
All I can say is: one team less for the Leafs to worry about in the post season!
p.-