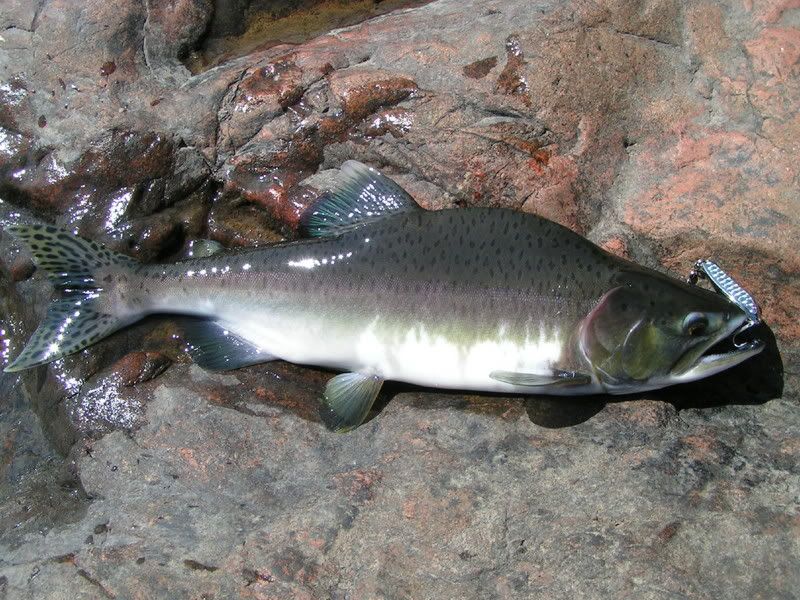 To prove that life is full of surprises, I learned last year from Mike's endless internet forays, that the north shore of Georgian Bay has a healthy population of a much ignored species of salmonid in Ontario: pink salmon.

Pink salmon first made their appearance in the great lakes in the mid 1950's, introduced by accident into a tributary close to Thunder Bay. For a very nice synopsis on pinks in Lake Superior, read this article from Wisconsin Sea Grant's "Fish of the Great Lakes."

Because pink salmon are rather diminutive, growing only to about 5lbs at the biggest, they do not excite the imagination of fishermen in general. After all, who wouldn't prefer chasing Chinook salmon, which grow to 30lbs, given the choice? And for most southern Ontario & U.S. anglers, the bigger salmonids such as steelhead, chinook salmon and coho salmon, are by far the most accessible; so why waste the gas on such "minnows"?!

In any case, because my parents live "up north," I have more access to Georgian Bay's north shore than most. And as curious anglers, my father and I made a visit to a local tributary last fall, just before Thanksgiving; only to learn that we were a bit late. There were fish in abundance, but most were dead or dying, and very few were interested in our many offerings.

This year, however, we went much earlier - last Friday, actually - and found the action much more to our liking. The run is not yet in full swing, and many of the fish are still relatively fresh and reasonably game. And although many of the locals don't exactly follow what we southerners would call "proper stream etiquette," there are plenty of fish to go round. And their fight is surprisingly fierce, for such a seemingly small fish.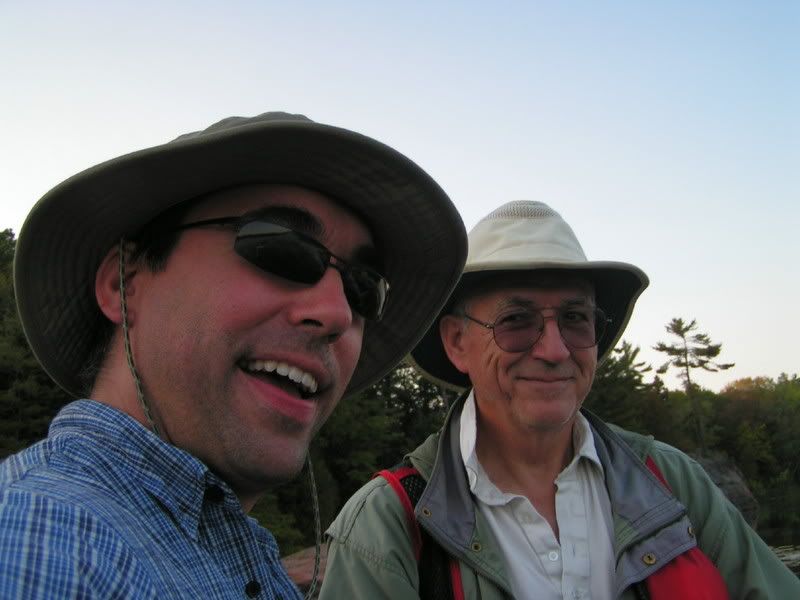 We didn't count the fish we landed, but it was well in the thirties. The action was sometimes quite furious, as evidenced by the two photos above, where my father hooked into a fish between camera clicks. He seems to be smiling indulgently in the first pic, then the strike comes. In some sections of the river, furthermore, there were so many salmon lining up to ascend the rapids, that snagging them was completely unavoidable; in fact, future visits will be made with barbless hooks.

What did they like? Krokodiles, mostly, silver panther martins and salmon roe drifted under a float. They seemed to like their spawn sacks tied in red or ... you guessed it: pink.

What did we like? the salmon. Fileted & fried in butter, with a light batter of flour, lemon/garlic spice, salt, pepper & parsley.

p.-

More images:
My father with a typical male, destined to the frying pan, after landing it.
And I managed to pick some off with the camera as they surfaced.