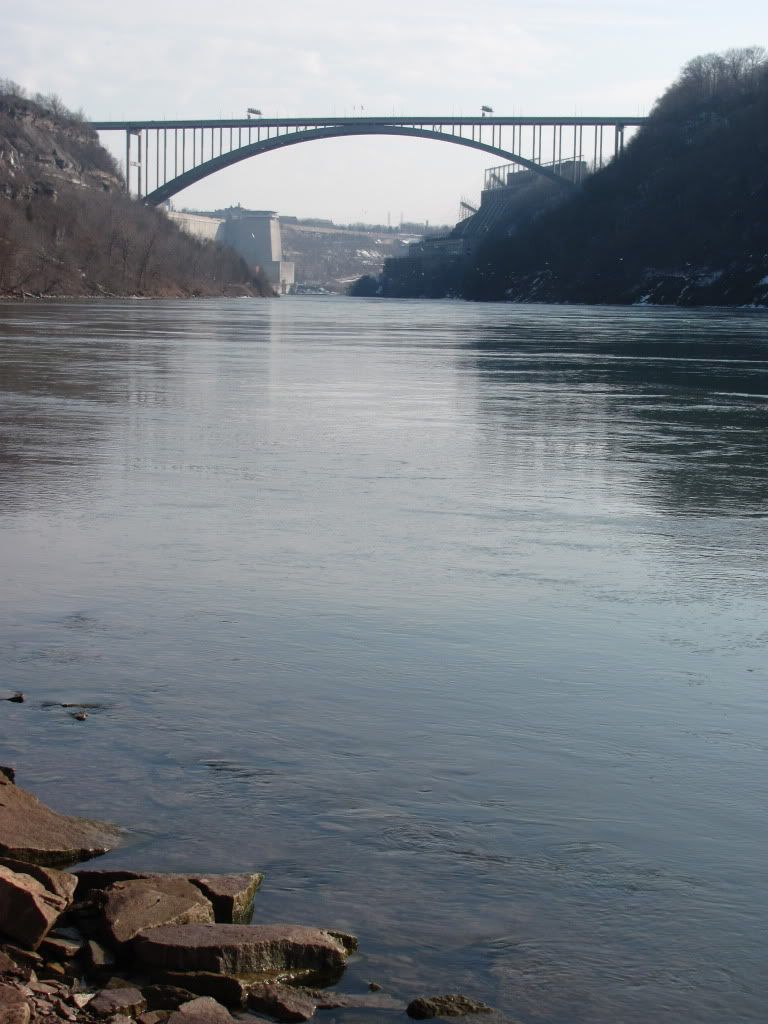 After all the angst of my last post, May manifests itself in March. Just like that, the ice receded, the rivers rose, the fish ran and the rain came.

And by miraculous chance, I was afforded a day and a few hours to launch myself into this early Spring, with rod in hand and fish on the brain.

I visited some of the smallest flows available, as well as the very biggest - the Niagara river. I won't tell you that my success was stellar on the Niagara, because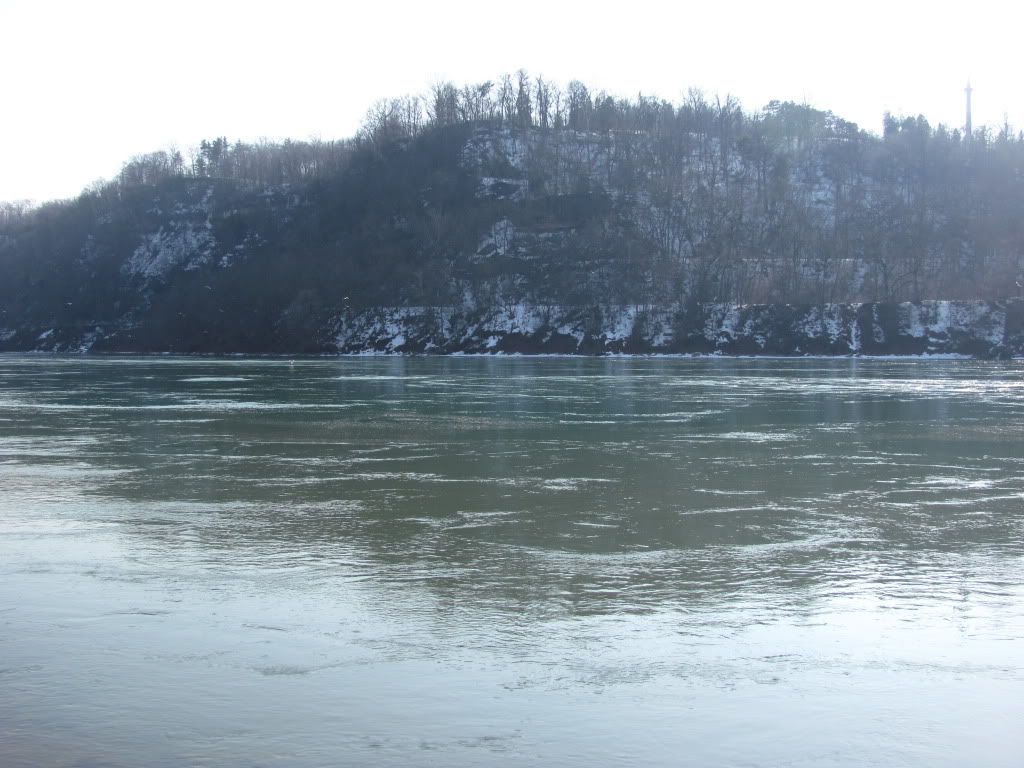 the hot bite was "so last week," but I acquitted myself well everywhere else I went. Mind you, the Niagara fresh from ice-out is a wonderful thing to behold. Such a greenish turquoise hue lights up the water, that one can stare at it for hours - which is really easy to do when the fish aren't biting.

Elsewhere, the water was either on the rise or on the drop, fresh from ice-out, teeming with opportunity. Whether I targeted fish that were hampered by an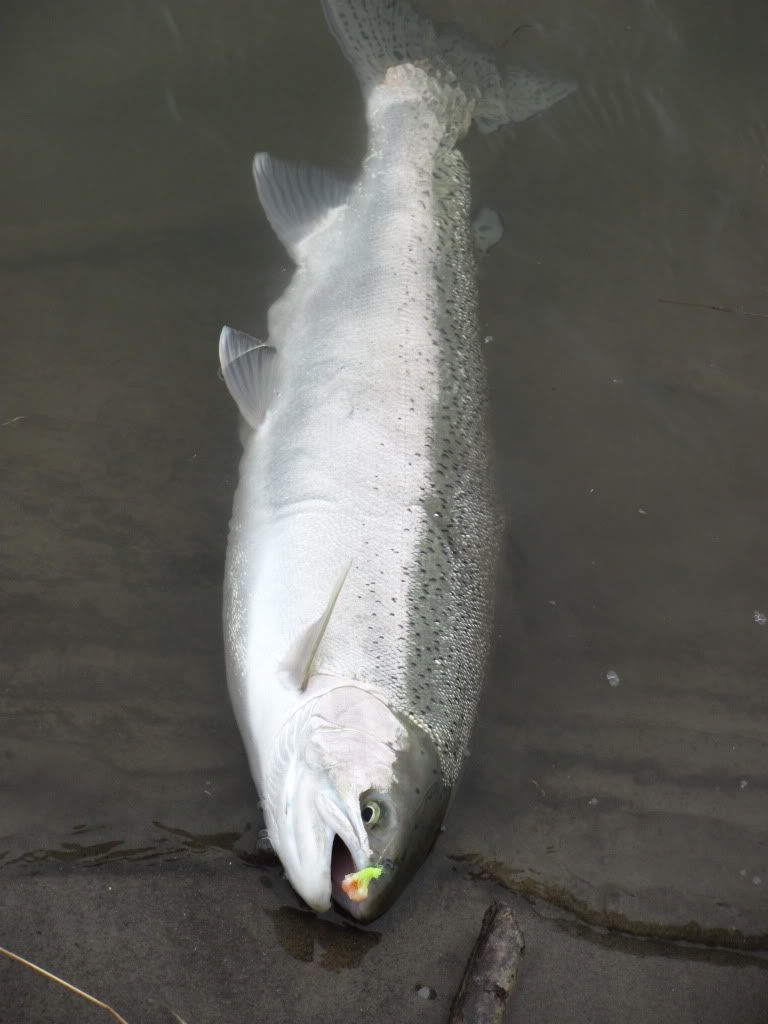 obstruction or swiftly passing through a wide open lower section of river, I managed to make a decent number of connections. I also got to fish with one of my newest friends in the steelheading community. Rene is not only a superb fly and jig tyer, but he is a superlative steelheader. He exhibits all the characteristics of the rest of us addicts: careful indecision and indomitable enthusiasm. Is the wind too high? Is the water too brown? but all these doubts will disappear in a cloud of laughter the moment the float disappears under the flow.

But for me, these past few days, it's as though nature and fate have wanted to
remove all doubt. At perfectly timed intervals, my most trusted "advisors" have made the often torturous decision of "where to go" quite painless.
Very timely, unexpected meetings and phone calls have resulted in good advice and good fishing, for which I'm thankful.

The most memorable fish over this little stretch is probably the last one I caught. She was neither big nor incredibly strong or acrobatic, but she was definitely enthusiastic in her expression of hunger!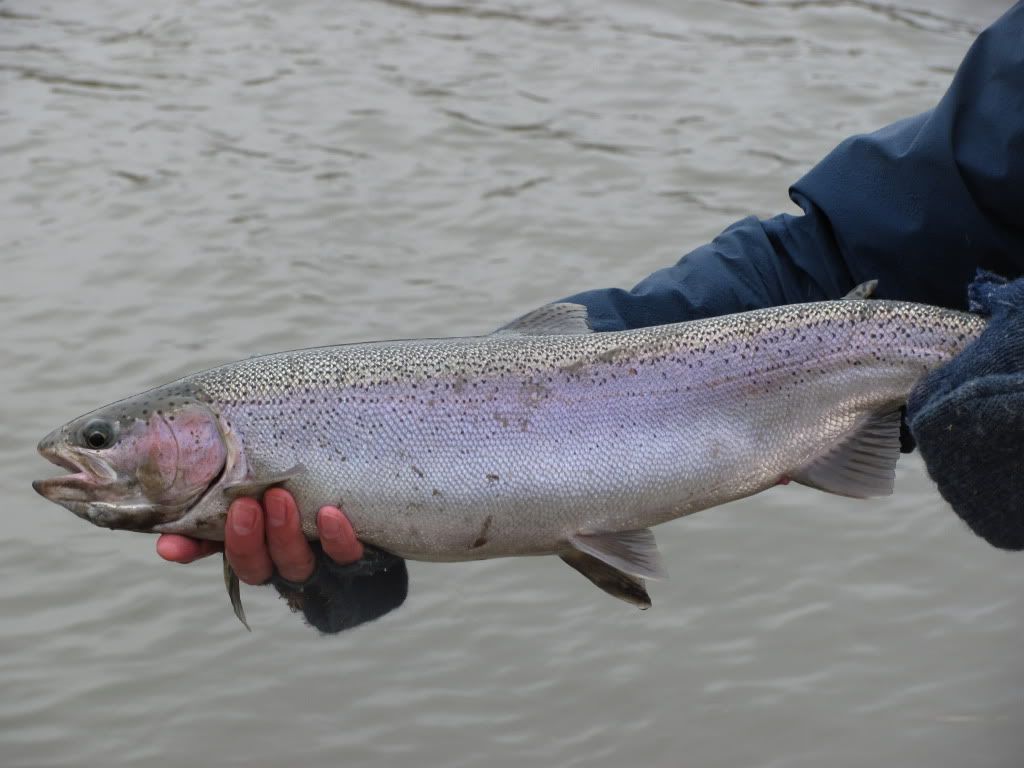 After having watched Rene "out-dozen" me, I deduced that he'd sprinkled some sort of magical faerie steelhead-attractant dust on his roe; and fifteen minutes of drifting with one of roe bags he'd tied proved the point. The above fish was the result, and I've rarely seen a more aggressive take. There was a little stream of air bubbles in its wake, as it literally torpedoed down!

But that's only speaking for me... As far as Rene was concerned, well...
Need I say more? Let me say that I eyed that thing with envy - and looking at the picture now, I can honestly say that I'll beg him for his bait can earlier in the game next time!

So what now? Back to hand wringing, I suppose. That, and staring at my "days to the opener" counter on my blog.

I'll probably go and flick through my pictures, and then those of other fisherfolk who are so kind as to share their success pictorially, while I work and raise kids. Sigh. Big sigh. HUGE sigh.

But these sons of mine will keep my busy enough, I suppose. And that's a good thing, as it can make time go by really quickly - and if they beat me up enough (remember: twins, and they're 4 years old now!) I will actually deserve the break!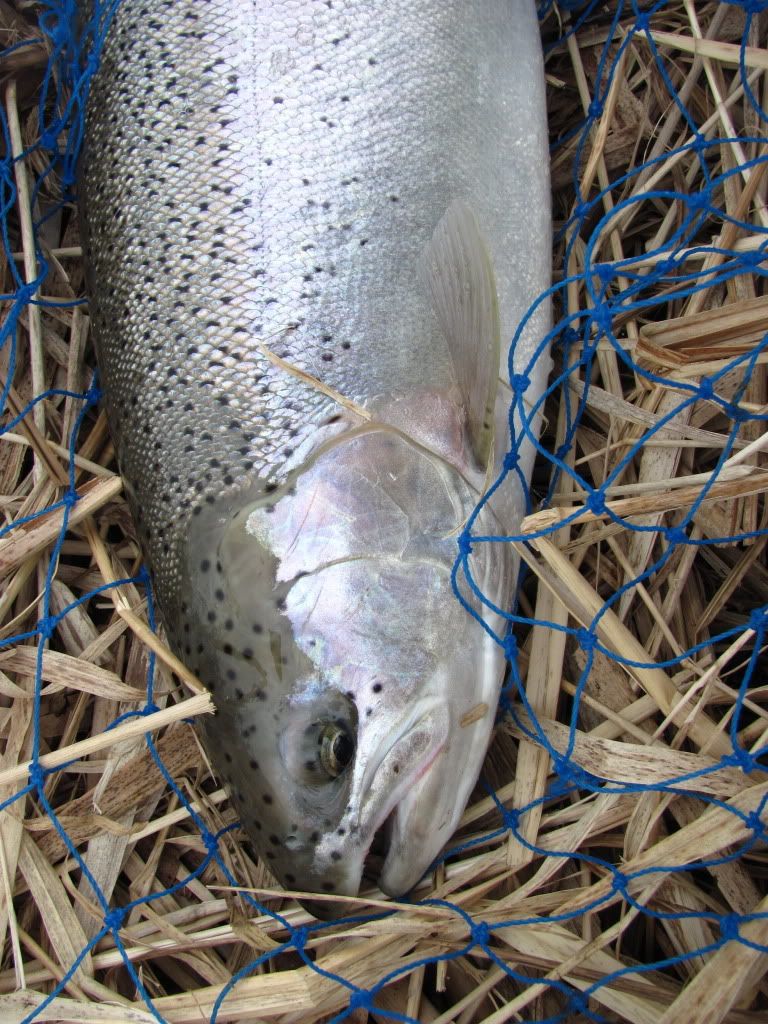 p.-