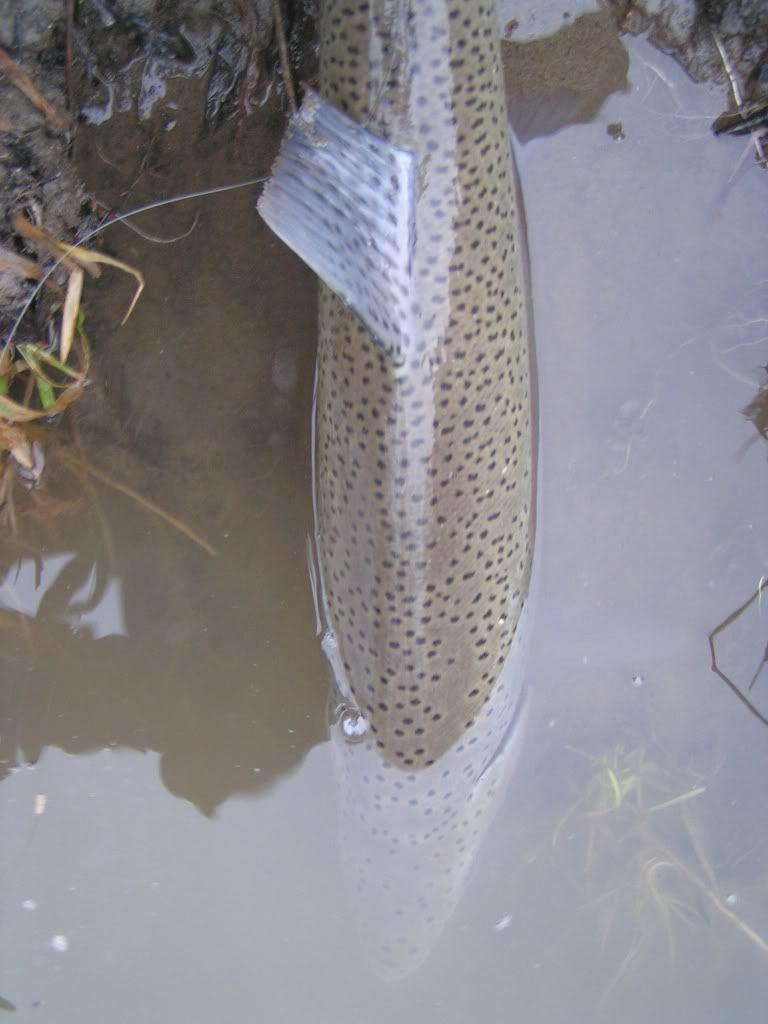 Part 1: A New River to Fish.

It was 5:10pm and my self-appointed quitting time had come. My watch alarm was beeping, and it was time to pull the float from the water and go home, to help my wife with our rambunctious twins. The water was probably a little dirtier than I would have liked, and fishing a new river in high-water conditions is usually pretty challenging, no matter the skill level of the angler. Add to this the fact that I only had an hour in which to fish, and the result should be obvious. That is, until the float went down.

As it turns out, I had read the water correctly. After 45 minutes or so of dredging the deeper portions of a corner-shaped pool, I had decided that fish might be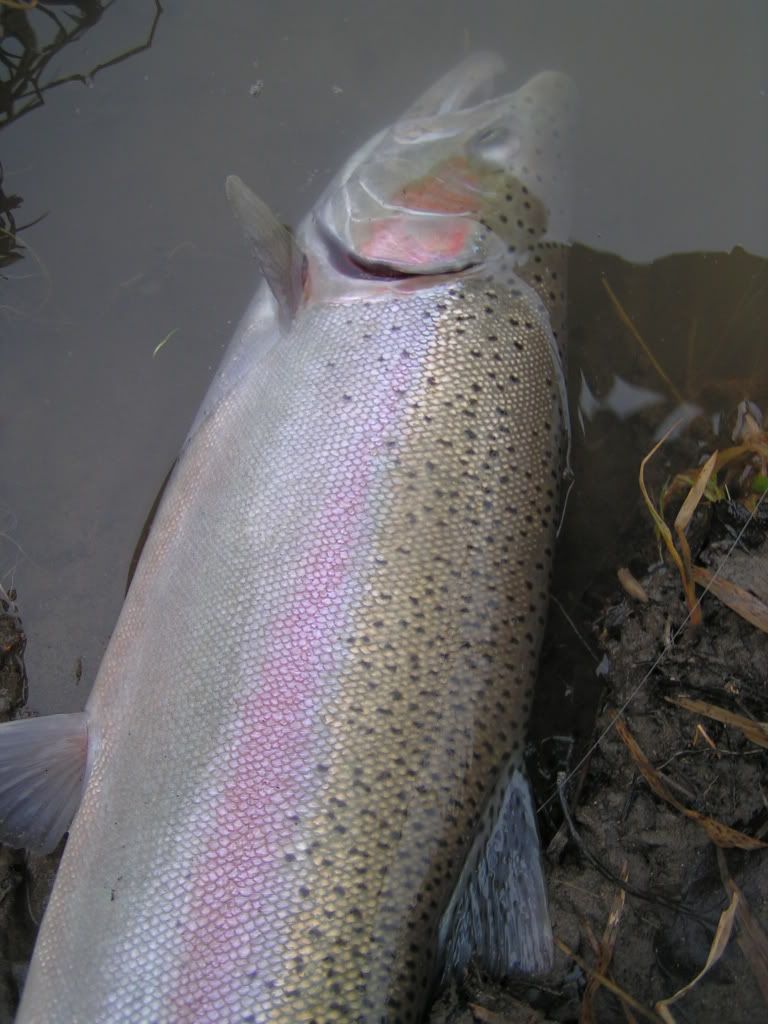 seeking rest behind the many bottom obstructions that had hampered my drifts in the long, straight section immediately following the tail-out of the pool I'd been fishing. I'd seen several large wakes in that run as well. So I had shortened my drift to what I hoped was an appropriate length, high enough to avoid snags but deep enough to come within the striking range of any fish that might be lurking there. Before the time could reach 5:10:30 - which is when the alarm would stop - I was fighting a 5lb male.

Not knowing the bottom of this river very well (yet) I had an interesting time landing this fish, but it was finally done. After a few quick pictures I released the beautifully coloured fish, wishing him success on his quest.

Part 2: Fishing with Wallacio and Exploring the New River.

Slush. Big gobs of slush, floating down the river seemingly consciously trying to grab our floats and wreck every attempt at producing a decent drift. That, and frozen toes seemed the order of the morning.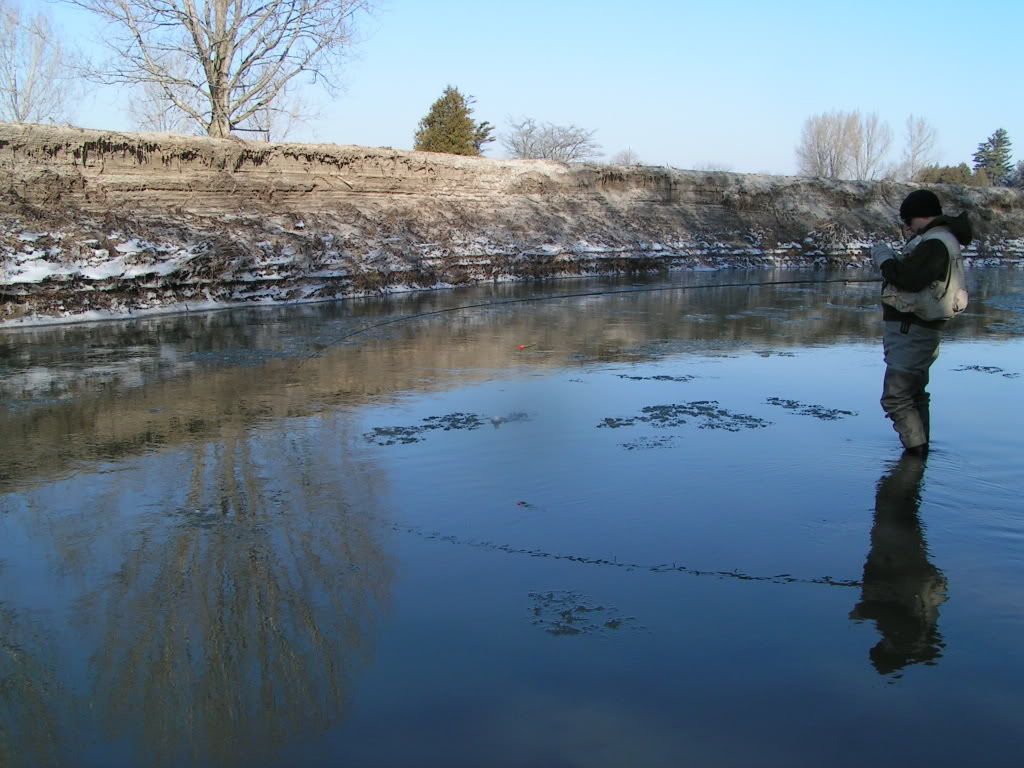 I was fishing with Wallacio, which was as fun as always (except for the above listed nuissances), and we were attacking as well as we could, one of the better pools on one of our favourite rivers east of Toronto. Although it was cold at the time, we knew that it was going to warm up significantly later on in the day.

Either way, our jaw muscles were not cold. They were well warmed up, as we kept the conversation going most of the morning. Among the subjects that were broached, Wallacio predicted that the slush would only disappear around 11 O'clock, when he had to leave. I told him I was optimistic, but as it turns out... I was optimistic. The slush hung around until 11, although it did start to relent around 9:30am or so. I find it, therefore, ironic that all the fish we caught were landed and released well before that time.

I was the first to get action. My float went down somewhat after the end of my drift, and it turned out to be a lovely little "shaker" which I quickly unhooked and released. We fished for another little while, and I got another hit. This time, the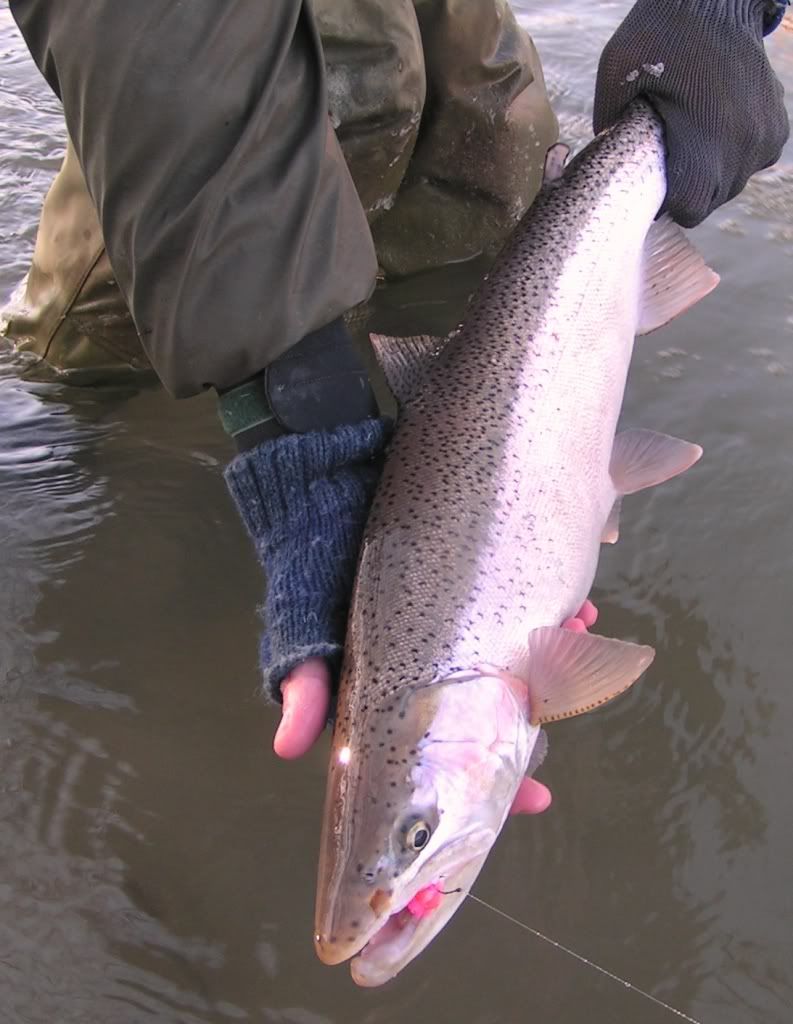 fish was much larger. After 5 minutes of the "Michigan Dirty" I managed to land another nice male steelhead. Wallacio snapped a quick picture and the fish was released unharmed. Both fish had hit in the same spot, so we decided to walk 10m or so downstream and fish it more seriously.

Not much later, it was Wallacio's turn to get into the game, and he didn't disappoint. After a good fight, I tailed the fish for him and we got ready to take a picture. It was a beautiful 7-8lb female, who bore proof of having benefited from catch and release: Wallacio's hook was on one side of her mouth, while on the other she bore a small wound which had obviously been given her by another angler's hook. Both of us are C&R advocates, so it was nice to be the recipients of its effects. Anyway, worried that ice might form on its gills while it was out of the water, I dunked the fish into the flow for a second. But only for a second; she was still very energetic, and with a powerful flick of her tail she slipped from my grasp. We watched her go, as she sped off into deeper water. Oops!

After Wallacio left, I fished for another half hour or so on this river, getting one bona fide hit but failing to connect. I decided that I should head homeward, but that I should also take a look at the river from Part 1 again: I really wanted to check out the mouth, and what the river looks like at the lake.

On my way to the river mouth, I saw a group of three fishermen. One of them seemed quite a bit younger than the other two, and I did a double take. In fact we both did. Having only ever seen pictures of eachother, it wasn't immediately obvious to either of us who the other fisherman was... but here was definitely Silvio from the Ontario Fishing .Net forum. We shook hands and said hello, and he shared a picture with me of a monster male Steelhead that he landed at "My Pier" that same morning.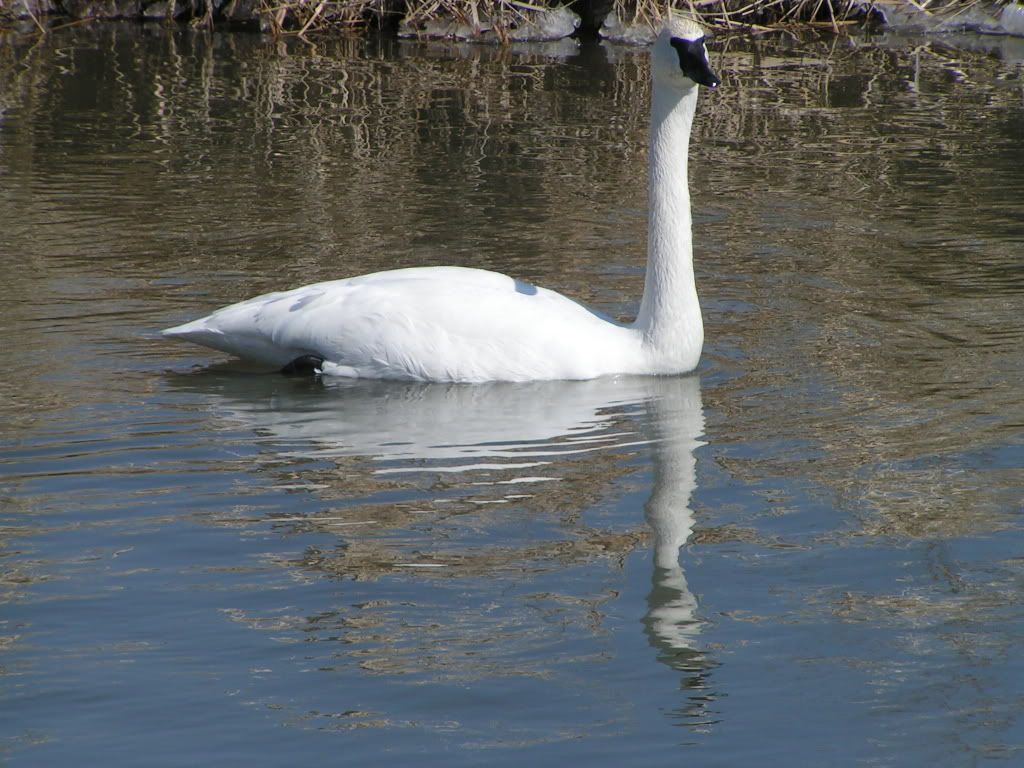 I was not disappointed with my visit to the mouth of the river, even though it wasn't piscatorially successful. I did miss another good hit, though, again failing to connect because I wasn't paying attention. There was too much surf for me to fish it very well, and I knew that the time had come to go home.

On the way, I saw this fantastic creature and took a picture of it. Zeus himself, witholding bounty until my next allotted opportunity on the rivers!

p.-