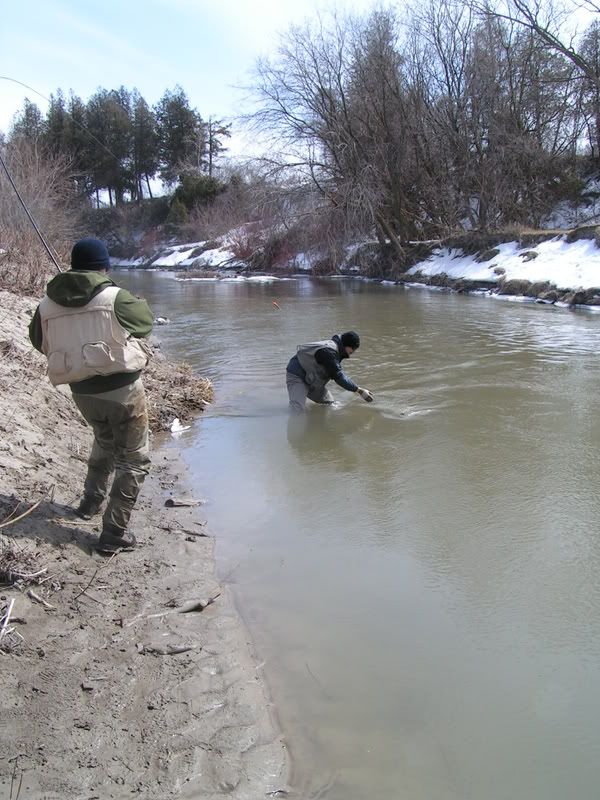 One of the most avid of my faithful readers recently complained that I hadn't updated my blog in a while, so I guess I should. So far, this wonderfully late spring has been nothing but an anti-climax for your respectful Average Steelheader. Work, Chocolate-coloured water, East Winds, meddling (but well meaning) female relatives, rabid but cute 2 year-olds, ad infinitum ad nauseum, have all contributed to keeping my fish count low.
Sigh.
Speaking of the East Wind, it didn't stop my friend the Wallacio from padding his fish count with a lovely extreme-late-season brown trout, just before March turned into April. It was one of those inexplicable occasions where everything else seemed perfect. There were no crowds, the water was high and green, and we even had a few hook-ups in the morning. We knew that we would hook many more as soon as the slush cleared later in the morning. However, not only did we not land the few that we hooked into early, but by about mid morning a front passed through, the East wind picked up, and the fish turned off. The slush was gone, but so were the fish! This is the only "trip" I've had so far this spring, where more than half a day was dedicated to steelheading.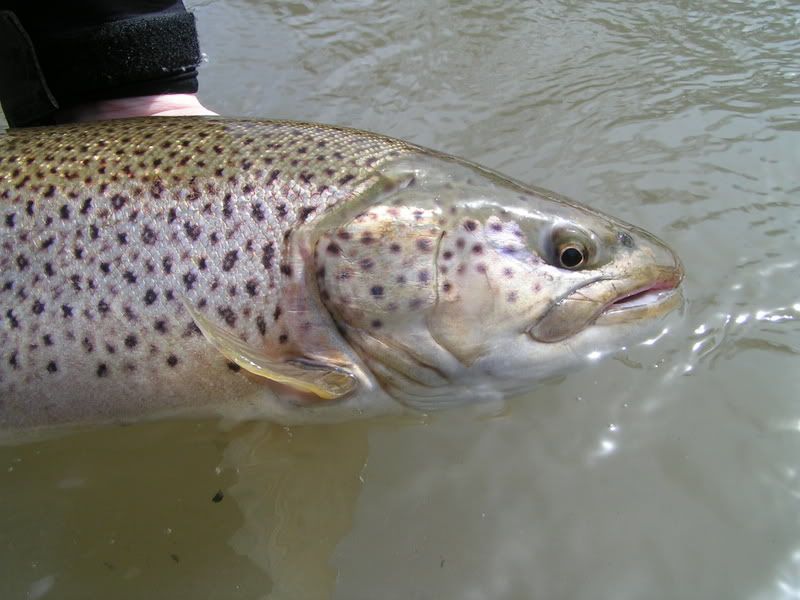 Oh it was a brutal one for me, especially since the highly touted "Siglon" line I was using, proved short-lived and unreliable. Toward the end of the day, I got fed up and simply peeled it all off my reel. I've never seen or used a wimpier line! I spooled it on last November and might have had it for a half dozen trips. That is far beneath the standard I had expected. So now I've spooled on some Raven. Let's see how it goes.... I wish I could find some Drennan Super Mono in Ontario!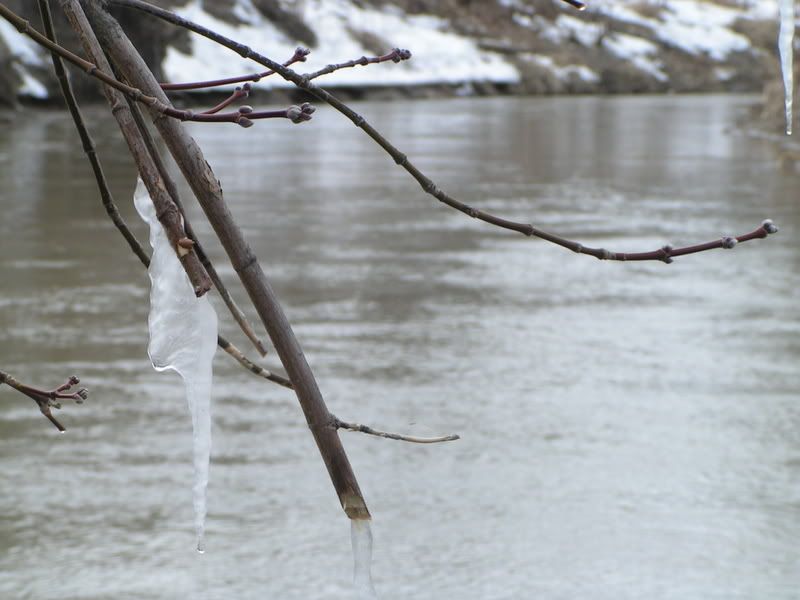 I did have one short, freezing instant of glory on the Friday preceding the above re-telling. I stopped at the local watering hole for about 15 minutes. At least, I had intended it to take only 15 minutes, but some crazy fish decided to take my pink & purple "jiggy bugger" for its death ride. 10 minutes later an unphotographed 10lb hen lay glistening on the bank. I almost got frostbite unhooking her, but she swam away quickly for all that.
Wait, there is also the fact that I finally got to meet with Moosie, and I got to see my friend the Wallacio before his grand transformation. Transformed into what, you ask? Why, one of those most unpallatable beings, known for their soft-heartedness, worry, care-worn-ness and bleary eyes: a new dad.
Congratulations Wallacio! You're making a fine daddy already, I'm sure :).
p.-